About Master's Funding
The master's degree at UJ focuses on equipping students with a broader understanding of their field of study at an advanced level. The heightened learning environment of UJ helps master's students explore their topic of interest within groupings of like-minded individuals and provides for an intellectually rewarding experience. UJ master's graduates are able to handle complex issues, make critical decisions based on logical data and communicate effectively to diverse audiences.
The Postgraduate School (PGS) provides support to the University of Johannesburg's master's students. This is done through the Postgraduate Funding Management (PFM) area. PFM is responsible for communicating the various postgraduate funding options made available at UJ for master's level of study.
Master's students are funded from internal and external funds in order for them to successfully complete their qualifications. Scholarships that are offered under internal funding are categorized as Global Excellence Stature with the research focus on the Fourth Industrial Revolution (4IR), and URC funds. URC funds have various sub-categories and are listed as URC International, Supervisor-Linked (SLB) bursaries and Special URC. SLB bursaries are available for both the part-time and full-time students.
PFM has embarked on reaching our success plan by increasing number of postgraduate students. Funding for master's students are crucial to the university's goals, hence external funders are assisting the university in reaching these goals. External funders are National Research Foundation (NRF), Department of Science and Innovation and the Council for Scientific and Industrial Research (DSI-CSIR), Duke CE, Mandela Rhodes Foundation, Nedbank, Queen Elizabeth Commonwealth and various Sector of Education and Training Authority (SETA) organisations. Students can only apply when the call for these scholarships is out.
Postgraduate Funding Opportunities brochure click here
2024 FirstRand International Postgraduate Scholarships Invitation
You are cordially invited to the 2024 FirstRand International Postgraduate Scholarships presentation.
Date: 23 November 2023
Time: 09:00 – 10:00 am
Platform: MS Teams Meeting
Join on your computer, mobile app or room device
Click here to join the meeting
Meeting ID: 339 284 007 767
Passcode: PGFikV
Download Teams | Join on the web
Join with a video conferencing device
fnb@m.webex.com
Video Conference ID: 122 529 833 3
Alternate VTC instructions
Learn More | Meeting options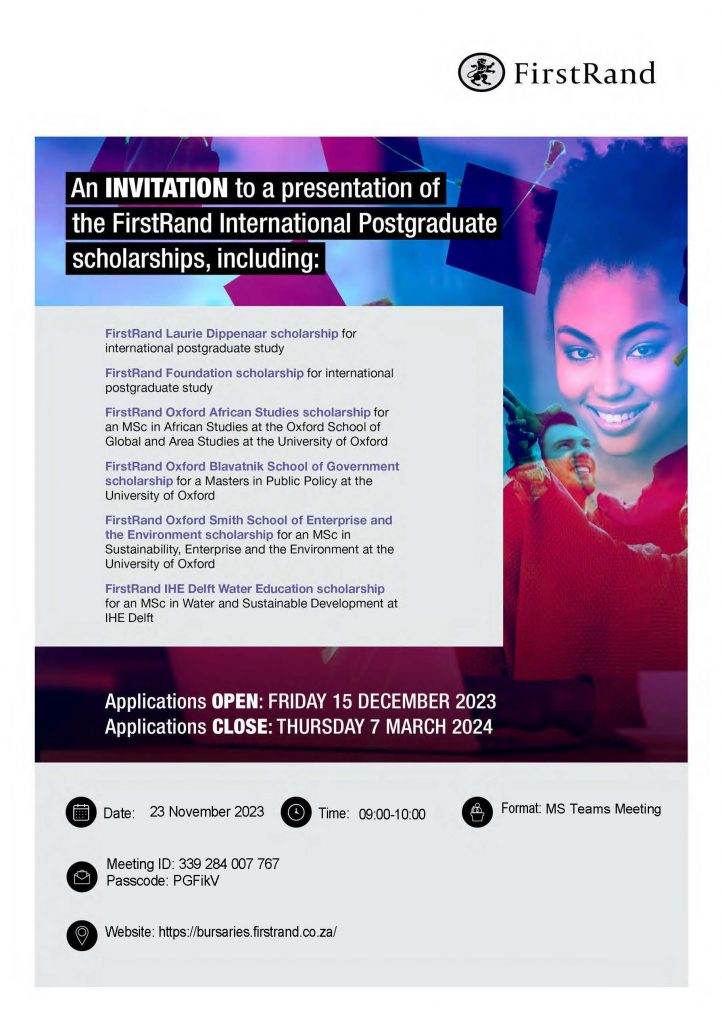 For more information, click here
2024 call for Master's GES 4.0 is open for applications.
Please note that the links to Master's, Doctoral, and Postdoctoral Research Fellowship (PDRF) Sintel online application forms are as follows:
Students and PDRFs whose research interests are aligned with 4IR are welcome to apply.
Closing Date: 27 November 2023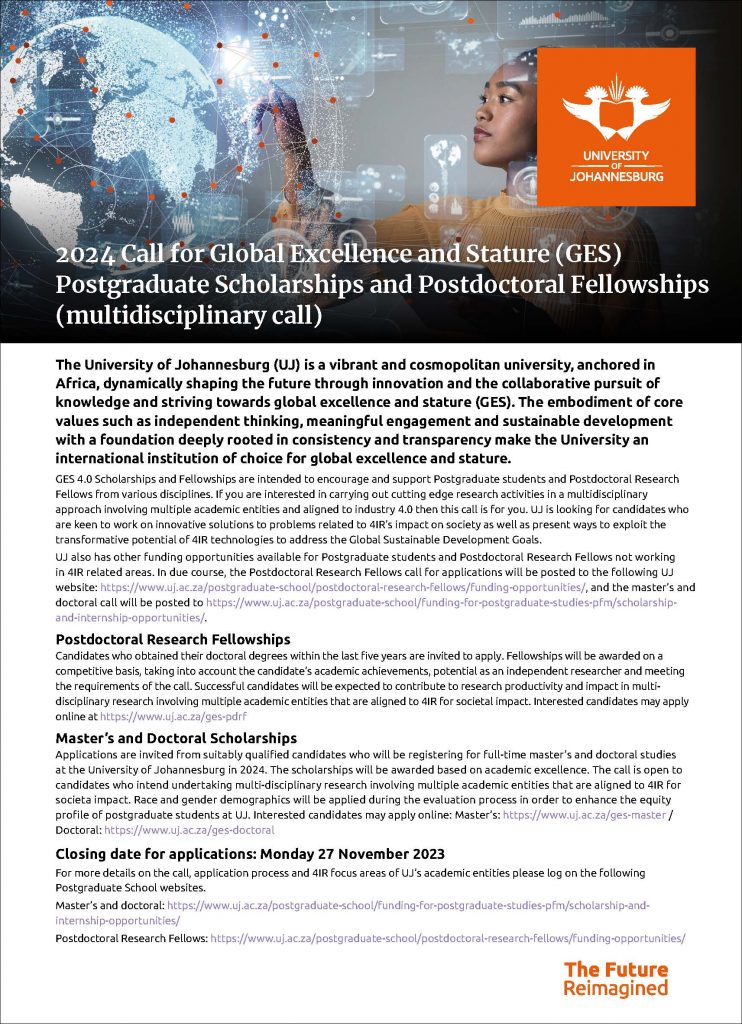 For more information, click here
Beijing Institute of Technology: CSC Scholarship Proposal for International Students from the University of Johannesburg
Deadline: 31 December 2023
Admission Book: Masters and PhD Program, please click here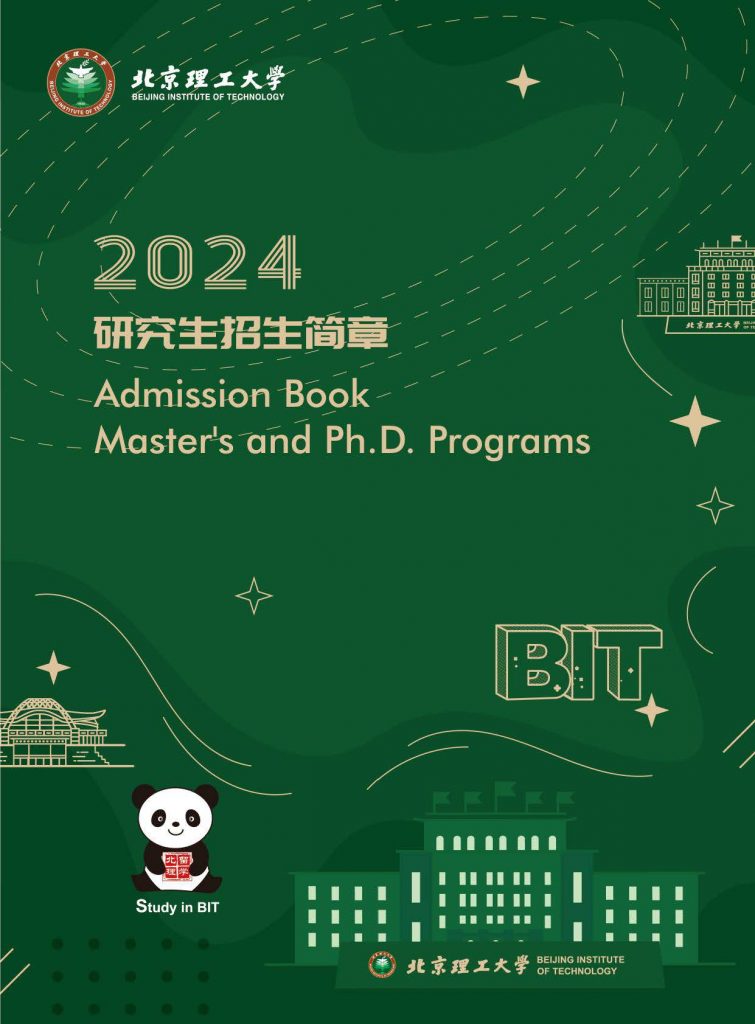 For any inquiries, please contact CHEN, Hui at master_phd@bit.edu.cn
Erasmus Mundus Masters: Scholarships 2024
The emPLANT+ Master Programme is inviting scholarship applications for the Plant Breeding Master's program from eligible applicants under the Erasmus Mundus Joint Master Degree (EMJMD) scholarships, which close on 09 January 2024. The EMJMD scholarships are open to all countries worldwide, including South Africa.
The emPPLANT+ program aims to provide students interested in plant breeding with excellent training in science, management, law, languages, and soft skills that are needed in this field by the Seed Industry and Research Institutes. The program also seeks to attract excellent students from all over the world by joining their forces to provide a multidisciplinary approach to traditional and biotechnology techniques, links with management, and new technologies (bioinformatics, data management, etc.) that are required for future MSc/Ph.D. graduates to obtain a comprehensive and strategic understanding of complex breeding projects in an international dimension.
The scholarship offering includes:
Participation costs (including registration, tuition, support for visa application, health insurance, summer program, and academic support)
Travel allowance
Subsistence costs for 24 months
To apply, you need to meet the following admission requirements:
Graduate of a Bachelor of Science degree in Agriculture/Agronomy, Plant Biology, Biotechnology, Biochemistry, Genetics, Molecular Biosciences, or related relevant fields
Students in their last year of BSc degree can apply
English language proficiency or a letter from your university attesting English as the medium of instruction for your degree
A fully completed application form received before the due date
All supporting documents submitted before the due date
For more information on the application process, visit Application procedure – minimum requirements – emPLANT Master (emplant-master.eu).
To apply, visit Apply now – emPLANT Master call for student applications (emplant-master.eu).
Inquiries can be sent to Ms. Zsófia Kovács via email at kovacs.zsofia@uni-mate.hu.