About Honours Funding
The Honours degree at UJ focuses on preparing students for research and postgraduate study in a field of their choice. The learning experience at UJ helps Honours students to deepen their understanding of the subject matter in their respective field. UJ Honours graduates are extremely well versed in their subject matter, have fine-tuned research and critical thinking skills, and are ready for the next phase of their journey.
The Postgraduate School (PGS) provides support to the University of Johannesburg's Honours students. This is done through the Postgraduate Fund Management (PFM) area. PFM is responsible for communicating the various postgraduate funding options made available at UJ for Honours level of study.
Postgraduate Funding Opportunities brochure click here
NRF Honours Scholarships for the 2024 Academic Year
Applicants are required to consult the NRF's official documents before submitting queries or applications.
South African citizens and permanent residents
Applicants should be intending to take full-time Honours studies.
Applicants may not hold full-time salaried employment during the tuner of the scholarship.
A minimum academic average of 65% is required for final year modules for a three/four-year degree (or equivalent qualification).
Applicants must be 28 years of age or younger in the year of application i.e. applicants must not be over 28 years by 31 December 2023.
Duration of support: One year.
Allowance: Full Cost of Study R160,735 and Partial Cost of Study R117,735.
Applicants must apply on the NRF Connect website at: https://nrfconnect.nrf.ac.za. No manual applications will be accepted.
For manuals and tutorials on how to use the system are available on the NRF website at:
NRF Connect Documents – National Research Foundation.
Application and Funding Guide click here
Framework click here
Frequently Asked Questions click here
Institutional Contact Person
For further inquiries and assistance, please visit our office at the Postgraduate School, Akanya Building, Apk Campus or contact us:
Mr. Thabiso Masango                        Mr. Boitumelo Mokoena                       Mr. Ntokozo Manana
011 559 3287                                        011 559 7208                                             011 559 4530
Email: thabisom@uj.ac.za                Email: bjmokoena@uj.ac.za                 Email: nmanana@uj.ac.za
Closing Dates:
First-time General Honours Scholarships –  24 November 2023
2024 HCI Foundation Bursary Application
The 2024 HCI bursary applications are open and the closing date is 30 September 2023. The bursaries are for Postgraduate Diploma and Honours students.
The link to applications is: https://hcifoundation.devman.co.za/devman/web/bursary/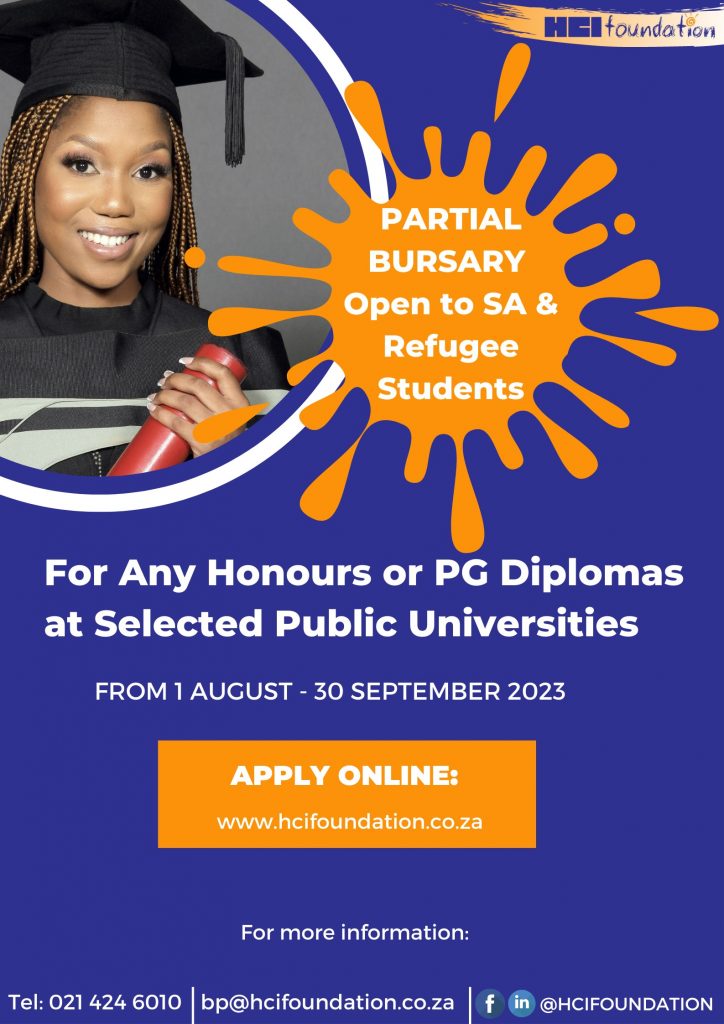 For Frequently Asked Questions for more information, click here