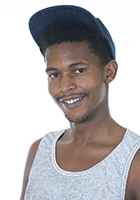 Tony Shabangu will be teaching Bioethics to Optometry students this year. Tony Shabangu is bright young student who comes from Kwa-Zulu Natal, Pietermaritzburg. He moved to Johannesburg in 2008 to pursue studies at the University of Johannesburg, which he completed in 2011, graduating with a B.A in Psychology majoring in Philosophy and Anthropology.
Tony went on to obtain his Honours Degree in Philosophy and further continued his studies in philosophy and he is currently completing his MA Coursework degree.
Along with this Tony has tutored philosophy for a number of years beginning in 2012 and still running. With regards to research, Tony is primarily interested in axiology, particularly the African ethic of Ubuntu. For his Honours research paper Tony wrote about the 'Bioethical implications of Ubuntu for Traditional and Western Medicine'. And for his Masters minor dissertation Tony is writing about 'The Implications of Ubuntu for Prison Reform'.