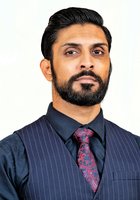 Senior Lecturer
Name: Asheel Singh
Location: B Ring 708 Auckland Park Kingsway Campus
  Staff Members
Contact Details:
Tel: 011 559 4940
Email: asheels@uj.ac.za
Applied ethics, bioethics (transhumanism/human enhancement), population ethics (anti-natalism), environmental ethics, meaning in life, philosophy of religion, African philosophy (esp. metaphysics), Eastern philosophical approaches (esp. Indian), Nietzsche.
Asheel Singh's research areas include meaning in life and applied ethics, with a specific focus on procreative ethics. His research interests also include Eastern philosophy, environmental ethics, philosophy of religion, African ethics and metaphysics, and the philosophy of Friedrich Nietzsche. He won the UJ Faculty of Humanities Best Postgraduate Teacher Award in 2021. Asheel Singh is UJ Philosophy's Postgraduate Coordinator (Teaching). True to stereotype, he would like to point out that he has been vegan since 2004.
Publications
Singh, A. 2023. What if God was all of us?: why the definition of 'God' matters in analytic discussions of meaning in life, Religious Studies (forthcoming).
Singh, A. 2018. The hypothetical consent objection to anti-natalism, Ethical Theory and Moral Practice, 21(5):1135–1150.
Singh, A. 2012. Furthering the case for anti-natalism: Seana Shiffrin and the limits of permissible harm, South African Journal of Philosophy, 31:104-116.