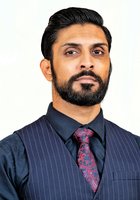 Senior Lecturer
Name: Asheel Singh
Location: B Ring 703A Auckland Park Kingsway Campus
  Staff Members
Contact Details:
Tel: 011 559 4940
Email: asheels@uj.ac.za
Specialisation area
Applied ethics, bioethics (transhumanism/human enhancement), population ethics (anti-natalism), environmental ethics, meaning in life; AOI: African philosophy (esp. metaphysics), Eastern philosophical approaches (esp. Indian), Nietzsche.
Asheel Singh's research areas include applied ethics, with a specific focus on procreative ethics. He is currently engaged with a project aimed at better understanding our ethical obligations toward future generations, one which brings together theories of meaning in life, dignity, anti-natalism, and transhumanism. His research interests also include Eastern philosophy, environmental ethics, African ethics and metaphysics, and the philosophy of Friedrich Nietzsche. He has received numerous under- and postgraduate scholarships and awards, including, in 2014, the inaugural UJ Graduate Student Essay Prize (now known as the Lembede Essay Prize) for excellence in philosophical writing. Asheel has also lectured at the University of Zululand, and is UJ Philosophy's Events Co-ordinator. True to stereotype, he would like to point out that he has been a vegan since 2004
Areas of Specialisation (AOS) and Areas of Interest (AOI):
AOS: Various issues in applied ethics, including population ethics (anti-natalism), bioethics (transhumanism and the ethics of human enhancement), and environmental ethics (animal rights, the ethics of eating meat).
AOI: Various Eastern approaches (primarily Indian philosophy), African philosophy (specifically metaphysics and ethics), Nietzsche, existentialism
Publications
2018 'The hypothetical consent objection to anti-natalism', Ethical Theory and Moral Practice, 21(5):1135–1150.
2012 'Furthering the case for anti-natalism: Seana Shiffrin and the limits of permissible harm', South African Journal of Philosophy, 31:104-116.