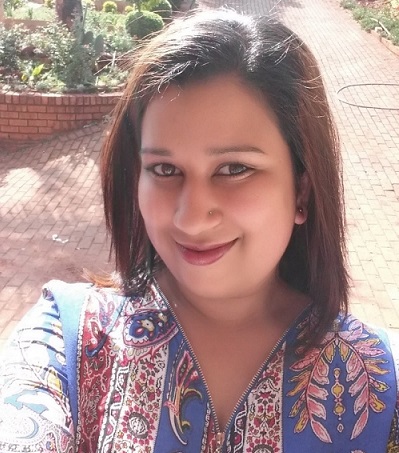 Assistant Lecturer
Name: Shanee Giani
Location: D Ring 501 Auckland Park Kingsway Campus
  Staff Members
Contact Details:
Tel: 011 559 2859
Email: shaneeg@uj.ac.za
Education
BA Undergraduate Degree in Psychology (University of Johannesburg)
BA (Hons) in Anthropology (University of Johannesburg)
MA Anthropology (University of Johannesburg)
Research interests
In 2016, I graduated with an Honours degree in Anthropology. My Honours research was centred around Understanding the everyday lives of Beggars and Window washes at an intersection in Edenvale, Johannesburg. Here, I conducted an ethnographic study which focused on the experiences and challenges that window washers and beggars faced as a result of the instating of the policy Operation ke molao.
Currently, I have just completed my Master's degree which focused on exploring the "human experience" of sleep through understanding sleep narratives. Research was conducted at a Department, at the University of Johannesburg, Auckland Park campus. The sleep narratives revealed issues around the social, economic and political factors that play a role in our everyday sleep experiences. But also showed the meaning of sleep within our fast-paced world. Hence, my research interests are aimed towards learning about culture and understanding social issues.
My passion for anthropology has developed through my interest in social and cultural phenomenon. Anthropology has taught me to learn more about the world and has opened my mind to much broader horizons.
Awards
2018 Monica Wilson Student Prize