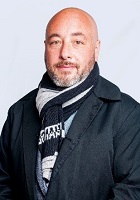 Professor
Name: Rafael Winkler
Location: B Ring 704A Auckland Park Kingsway Campus
  Staff Members
Contact Details:
Tel: 011 559 4244
Email: rwinkler@uj.ac.za
About Prof Rafael Winkler
Specialisation area
19th and 20th century European thought, Kant, Hegel, German Idealism, phenomenology, Foucault, deconstruction, psychoanalysis
Rafael received his PhD from the University of Warwick in 2007. After completing a Postdoctoral Research Fellowship at the University of Dundee in 2008, he held temporary teaching posts at various universities in the UK (Nottingham University, Nottingham Trent University, The Open University) until taking up a permanent post at UJ in July 2012. Rafael has published widely in the area of 19th and 20th century European philosophy, including on authors such as Bergson, Nietzsche, Husserl, Heidegger, Derrida, Levinas, Kant, and Hegel and in the philosophy of history. His research and teaching interests include post-structuralism, phenomenology, German Idealism, epistemology, and early modern philosophy.
Rafael was a research fellow at the Stellenbosch Institute for Advanced Study in the second half of 2019 and, in the first half of 2020, at the University of New South Wales, Sydney.
Rafael regularly writes for the
Mail & Guardian
. Rafael is the co-founder and co-chair of the Centre for Phenomenology in South Africa (
https://saphenomenology.wordpress.com
).
Selected Publications
2020 'Sexuality, capitalism and Africa' in
Journal of the British Society for Phenomenology
.
2018 The Philosophy of Finitude: Heidegger, Levinas, and Nietzsche (London and New York: Bloomsbury) 2017 (Ed.) Identity and Difference (London and New York: Routledge) 2017 (Ed.) Phenomenology and Naturalism (London and New York: Routledge)
2016 (Ed.) Identity and Difference: Contemporary Debates on the Self (London and New York: Palgrave Macmillan).