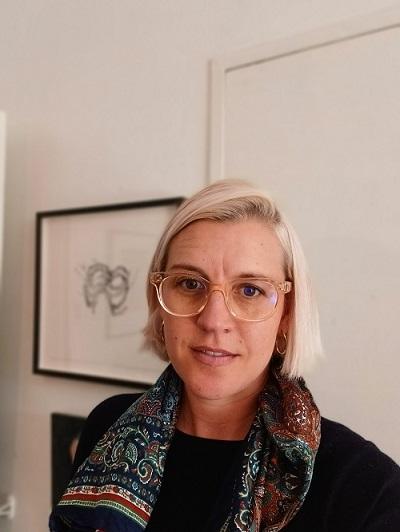 About Dr. Landi Raubenheimer
Landi Raubenheimer is senior lecturer in the Faculty of Art, Design and Architecture at the University of Johannesburg in South Africa. She teaches in the Design Studies modules in the faculty, as well as in the Honours modules, and supervises post-graduate students in Visual Art and various Design disciplines. She is co-convenor of InterACT, a forum for interdisciplinary research and teaching in the faculty. She completed a joint PhD in Film Studies at the University of Groningen, and in Art History at the University of Johannesburg, focusing on representations of Johannesburg in popular media. She has published on art, media and spectatorship in journals such as Critical Arts, Image & Text, the Journal of Literary Studies and de arte. She is also a practicing artist working with paper-making, who has exhibited work in South Africa, Italy, France and Japan. She is interested in the intersections between landscape, media technologies and aesthetics.
Recent publications:
2022: Co-guest editor for a special issue in the journal Image & Text entitled: "Challenging Legacies in Post-Colonial and Post-Socialist Notions of Place". The special issue features invited contributions by international scholars from South Africa, the U.K., Nigeria, the U.S., Greece, Cyprus and Brazil.
Co-author of article with Prof. Karen von Veh entitled: Memorials, landscape and white masculinity: dialogic interventions in South African art, in Image & Text, available at: http://www.imageandtext.up.ac.za/imageandtext/article/view/266/259.
2020: Nostalgic dystopia: Johannesburg as landscape after White writing, Journal of Literary Studies, special issue entitled "Post-apartheid whiteness and the making of place" edited by Dr Andy Carolin, Dr Minesh Dass and Dr Bridget Grogan, (ISSN 0256-4718/Online 1753-5387) 2020, issue number 36(4). DOI: 10.1080/02564718.2020.1822605.
2018: Black mirrors and zombies: the antinomy of distance in participatory spectatorship of smart phones. Image & Text, 2018, issue number 32. (ISSN 2617-3255). DOI: 10.17159/2617-3255/2018/n32a14.
https://johannesburg.academia.edu/LandiRaubenheimer
https://www.researchgate.net/profile/Landi-Raubenheimer
https://www.instagram.com/landiraubenheimerart/?hl=en