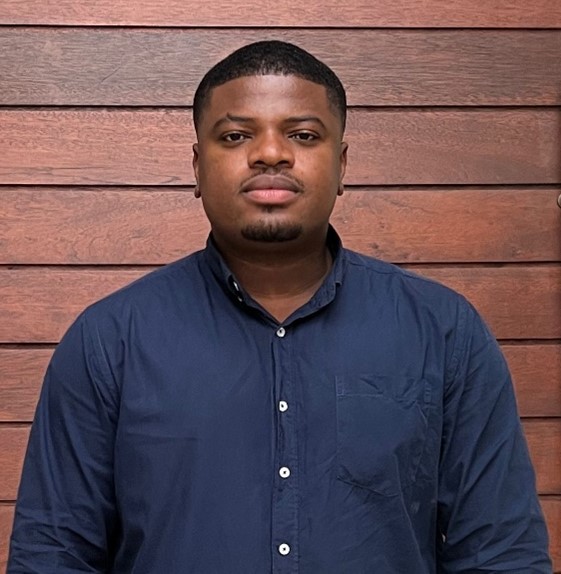 Itunu Bodunrin holds a PhD (Communication Studies) from the University of the Johannesburg, MA (with distinction) and a BA Honours in Cultural and Media Studies from the University of Kwa-Zulu-Natal, Durban. He currently lectures a theory module in the departments of multimedia design, graphic design, fashion design and industrial design at the UJ Faculty of Art Design and Architecture (FADA). The module covers the following areas: visual communication, media theories, representation and meaning-making, ideology, material culture/materiality and praxis of contemporary visual design.  
Dr Bodunrin supervises postgraduate research in media, communication and cultural studies. He has research interests in Digital Media, Popular Culture, Urban Indigeneity and Politics of Identity in Africa. In his doctoral thesis titled "Decolonial Interpretations of Indigeneity, Identity and Citizenship of the Contemporary !Xun and Khwe Bushmen of South Africa", Bodunrin used the cultural studies approach and critical self-reflexivity to make sense of the everyday digital media cultures and digital practices among San youth population in the Northern Cape Province of South Africa. More recently, Dr Bodunrin has been exploring digital activism and Design Thinking in Africa, as he positions his works at the intersection between Media, Culture and Technology. He has contributed to a wide range of journals and edited collections on Indigeneity, Marginality, Digitisation, Decolonisation and Popular Culture. 
Recent Publications 
Bodunrin, I and Matsilele, T. (Forthcoming). Social Media and Protest Politics in Nigeria's #EndSars campaign. In Handbook of Social Media in Education, Consumer Behavior and Politics Vol.1. Editors: Vladlena Benson and Richard Hartshorne. GB: Elsevier Science & Technology. ISBN: 9780323902373. https://shop.elsevier.com/books/handbook-of-social-media-in-education-consumer-behavior-and-politics/benson/978-0-323-90237-3#full-description.  
Bodunrin IA (2022). The Popular Practice of Hip Hop among the Indigenous !Xun and Khwe Youth of Platfontein, South Africa. In Indigenous African Popular Music: The Art and Its Applications. Oxford Press. https://link.springer.com/chapter/10.1007/978-3-030-98705-3_20.  
Bodunrin IA (2021) Negotiating Contemporary Indigeneity: cultural aesthetic and communicative practices among Contemporary !Xun and Khwe San Youth of Platfontein,  South Africa . Current Writing: Text and Reception in Southern Africa, 32:1, 98-98, DOI: 10.1080/1013929X.2020.1752521. https://www.tandfonline.com/doi/abs/10.1080/1013929X.2021.1970312.  
Bodunrin, I. (2021) Popular Music and Decolonized Practices of Language Digitization among the Contemporary !Xun and Khwe Indigenous Youth of South Africa. Critical Arts. South-North Cultural and Media Studies. Special edition on Language and Culture in the Transformation of School and Tertiary Education in South Africa. https://www.tandfonline.com/doi/abs/10.1080/02560046.2019.1702070?journalCode=rcrc20   
Bodunrin IA (2021) Examining the potential of Design Thinking in the age of Fourth Industrial Revolution in South Africa. DEFSA 2021 Conference. The 16th DEFSA Conference was hosted by the University of Johannesburg and Inscape Education Group from 5 to 7 October 2021. https://www.defsa.org.za/sites/default/files/downloads/2021conference/31_exploring_the_potential.pdf  
Bodunrin IA (2021) "Music in the Digital Worlds: Power, Violence, and Ethnics at the Society for Ethnomusicology Annual Conference in the US from October 28-31, 2021. Society for Ethnomusicology Meeting (SEM) hosted by the Indiana State University from 28-31 October 2021 .See: https://www.ethnomusicology.org/resource/resmgr/2021_annual_meeting/abstractsbook.pdf.  
Barnabas SB. and Bodunrin I (2021) Digital Media Practices Among Youth of the South African San People. In: Dunn H.S., Moyo D., Lesitaokana W.O., Barnabas S.B. (eds) Re-imagining Communication in Africa and the Caribbean. Palgrave Macmillan, Cham. https://link.springer.com/chapter/10.1007%2F978-3-030-54169-9_9.