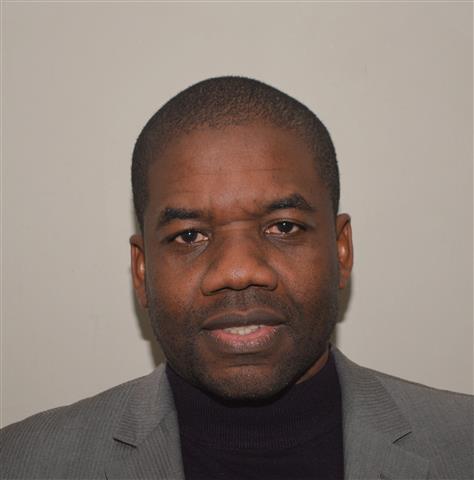 Dr. Hervé Wabo is a Research Associate and Manager of the UJ Paleomagnetism Laboratory. He was previously a Post-doc Fellow at UJ (Jan. 2014 to Dec. 2015), after a PhD from the same institution (March 2009 – Feb. 2013). Prior to his arrival at UJ, Dr Wabo worked in consulting companies from March 2003 to Dec. 2009 as Field Geologist involved in various geophysical surveys and hydrogeological projects in Central Africa.
His scientific interest mainly focuses on the paleomagnetic record of Archaean and Precambrian rock units. This information, combined with geochemistry and radiometric ages is used for paleogeographic reconstructions of important crustal blocks (e.g. Kaapvaal craton in South Africa, Baltica craton in Europe, Dharwar craton in India, Congo craton in Central Africa, etc…) within ancient supercontinents (e.g. Rodinia, Columbia, etc.), with implications for global magmatism, style of sedimentation, tectonic evolution, and mineral deposit targeting.
Dr Wabo is also responsible for promoting the UJ Paleomagnetism Laboratory as a hub for such research in the world. His duties include guidance in laboratory competences for academics, the respect of international standards in analytical activities, the development and implementation of new analytical methods and procedures, and the training and supervision of students and technical assistants.
Recent scientific publications:
Ncube, S., Wabo, H., Owen-Smith, T.M., Gumsley, A.P., Beukes, N.J. (Accepted). The Puduhush gabbro in Griqualand West, South Africa: extending ~1.89-1.83 Ga intraplate magmatism across the proto-Kaapvaal Craton. South Africa Journal of Geology.

De Kock, M.O., Malatji, I., Wabo, H., Maré, L.P. (2022). A positive syn-fold test from the Neoarchean Klipriviersberg Group of South Africa: Quo vadis Vaalbara. South African Journal of Geology, https://doi.org/10.25131/sajg.125.0017

Wabo, H., De Kock, M.O., Beukes, N.J., Hegde, V.S. (2022). Paleomagnetism of the uppermost carbonate units of the Purana basins in Southern India: New demagnetization results from the Kaladgi and Bhima basins, Karnataka.

Geological Magazine

, 159: 269–278,

https://doi.org/10.1017/S0016756820001181

.

Wabo, H., Beukes, N.J., Patranabis-Deb, S., Saha, D., Belyanin, G., Kramers, J., (2022) Paleomagnetic and 40Ar/39Ar age constraints on the timing of deposition of deep-water carbonates of the Kurnool Group (Cuddapah basin) and correlation across Proterozoic Purana successions of Southern India, Journal of Asian Earth Sciences, 223, 104984.

Djeutchou, C., de Kock, M.O., Wabo, H., Gaitán, C.E., Söderlund U. and Gumsley, A.P. (2021) Late Paleoproterozoic mafic magmatism and the Kalahari craton during Columbia assembly, Geology, 1375–1380, https://doi.org/10.1130/G48811.1.

De Kock, M.O., Wabo, H., Djeutchou, C., Luskin, C. (2021): Precambrian drift history and paleogeography of Kalahari. Chapter 12 in: Ancient Supercontinents and the Paleogeography of the Earth. Pesonen, L., Evans, D.A.D., Salminen, J., Elming, S.-Å., Veikkolainen, T. (Eds.), Elsevier, ISBN: 978-0-12-818533-9.

Humbert, F., Agangi, A., Massuyeau, M., Elburg, M.A., Belyanin, G., Smith, A.J.B., Iaccheri, L.M., Coetzee, L.L., Wabo, H., (2020). Rifting of the Kaapvaal Craton during the early Paleoproterozoic: Evidence from magmatism in the western Transvaal subbasin (South Africa). 

Precambrian Research,

 342, 105687. 

https://doi.org/10.1016/j.precamres.2020.105687

Wabo, H., De Kock, M.O., Belyanin, G., (2020). A 2058 Ma paleopole for the Kaapvaal Craton: Implications for late Rhyacian plate motion and duration of the Bushveld Complex, 

Precambrian Research

. 342, 105654. 

https://doi.org/10.1016/j.precamres.2020.105654

Wabo, H., Humbert, F., De Kock, M.O., Belyanin, G., Maré, L.P., Beukes, N.J., Kramers, J. (2019) Constraining the chronology of the Mashishing dykes from the eastern Kaapvaal craton in South Africa. Book chapter in the IDC-7 volume "Dyke Swarms of the World – A Modern Perspective". Springer Geology, 215-261. https://doi.org/10.1007/978-981-13-1666-1_6
Beukes, N.J., Swindell, E.P.W., Wabo, H., 2016. Manganese deposits of Africa, Episodes 39, 285-317. doi: 10.18814/epiiugs/2016/v39i2/95779
Collaborating institutions:
Harvard & Yale Universities & Caltech, USA
University of Geneva, Switzerland
University of Silesia in Katowice, Poland
Lund University, Sweden
Council for Geoscience, South Africa
Indian Statistical Institute of Kolkata, India