Home » UJ Library » Information Resources »
Welcome to the UJ Library Online Reading Corner, where you can find e-books, audiobooks, e-magazines and e-newspapers for your reading pleasure.
Read books, newspapers and magazines online for FREE!
Overdrive contains a large collection of electronic and audiobooks for your leisure reading.
Overdrive books can be checked out to your account online by using your student/staff number and your library PIN in OverDrive. On expiry, the book is automatically returned to the digital site to be made available for other patrons – so no fines.
Upon finding the title of interest, download the OverDrive App to your device and start reading/listening to your story. For most eBooks, no app or software need to be installed. Just click "Read" and start reading instantly in your browser using OverDrive Read. Other eBooks require that Adobe Digital Editions be installed and for audiobooks, the OverDrive app is needed. The App is available for iOS®, Android™, Kindle® and Windows Phone®, as well as for Windows and Mac desktop platforms.
Access your eBooks now at Overdrive.
Books-On-Prescription can also be found on OverDrive.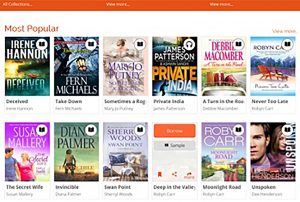 Press Reader​ Newspapers, Magazines
Why not read all your favourite newspapers and magazines online? PressDisplay has the latest editions of popular magazines such as GQ, Glamour, You, Huisgenoot, Kick Off, and many more! Local newspapers such as The Sowetan, The Star, Sunday Times, The Citizen and many others can be found on PressDisplay, as well as a wide variety of international newspapers – all for your online reading pleasure.
Get instant online access to today's newspapers and magazines in full-colour, full-page format. Just like reading the familiar print edition, you can browse articles and other key content such as pictures, advertisements, class​ifieds and notices. No additional software is needed to access the publications.
Start reading your daily newspapers and magazines now at Press Reader