Coal Petrography
Home » Faculties of Science » Departments » Geology » Facilities »
In 2015 UJ acquired a new petrographic system for coal and carbon analyses, at a total cost of R1.4 million. The purchase was made possible by the major support of the PPM, and equal contributions from the university research and faculty research committees. The Zeiss Axio Imager M2m reflected light polarizing microscope differs from other petrological microscopes due to the inclusion of the oil immersion objective lens. The use of immersion oil on the surface of the coal blocks enhances the refractive angle of the light, thus enabling high resolution colour images at a magnification of X500. The microscope has been retrofitted to accommodate the Hilgers Fossil Mot system for the measurement of vitrinite reflectance and maceral determination. The microscope is fitted with two LED light sources, which provide a more stable light emission compared to the conventional tungsten filaments. The white light is used for normal imaging and reflectance measurements, the fluorescent light for determining fluorescing capacity in liptinite macerals and certain minerals. A black and white camera produces images used for vitrinite reflectance determination, following calibration with standards of known reflectance values. Vitrinite reflectance determination enables the accurate determination of coal rank. The colour camera enables the taking of high resolution micrographs, and all other petrographic analyses (including maceral determination, microlithotype analysis, abnormal condition, mineral composition, particle type, char form, ash composition, etc). The latter analyses are undertaken by point counting. The microscope is fitted with an automated stage and autofocus, thus enabling remote analyses of the sample blocks if necessary. The Fossil Student software included in the Fossil system allows for the training of students via their computer screens rather than all sharing a microscope. A sample can be analysed, the images captured, and the data transferred to another computer, where the student can redo the analyses off line.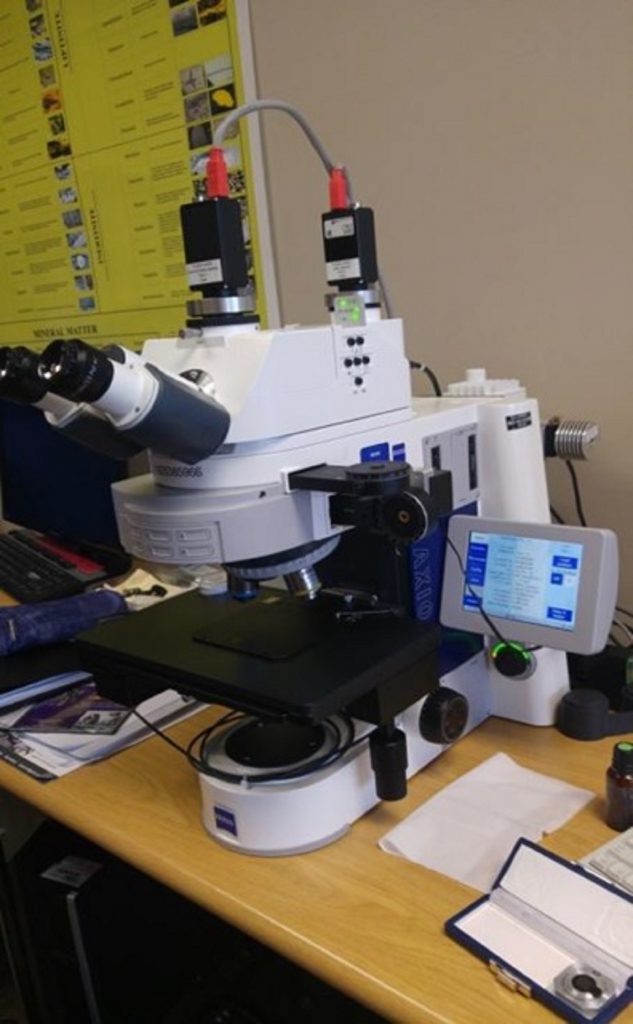 ZEISS AXIOIMAGER M2M REFLECTED LIGHT POLARIZING MICROSCOPE RETROFITTED WITH THE HILGERS DISKUS FOSSIL SYSTEM AS WELL AS STUDENT FOSSIL FOR OFF-LINE ANALYSIS
AVAILABLE ANALYSES INCLUDE:
-MACERAL DETERMINATION
-MICROLITHOTYPE ANALYSIS
-MAJOR MINERAL FORM ANALYSIS
-VITRINITE REFLECTANCE ON COAL AND SHALES
-ABNORMAL CONDITION ANALYSIS
-CHAR PETROGRAPHY
-FLY ASH PETROGRAPHY
-UNBURNT CARBON PETROGRAPHY
-COKE PETROGRAPHY
-ASSESSMENT OF COAL BLENDS OR ANOMALOUS BEHAVIOUR OF COAL
-HIGH QUALITY COLOUR IMAGES OF COAL AND CARBON FORMS TAKEN AT X500 WITH IMMERSION OIL
For more information on the coal petrography laboratory, or to use the facilities, please contact:


Coal petrography enables the optical examination of coal macerals and minerals.
Top left: pyrite veins in vitrinite; top right: large quartz grain embedded in the macerals; bottom left: square box indicates maceral mineral association; bottom right: minerals and organic matter closely bound together.
Use of fluorescent light to assess liptinitic material.
Left image is under white light; right image is taken under fluorescent light.