Tutor hall of fame
Home » Faculties of Humanities » Departments » Psychology » Tutor & Student Assistants »
Tutor Programme
The Psychology Department's Tutor Programme consists of a team of 15 tutors and 2 senior tutors, ably led by Ms Lebogang Phiri (lebop@uj.ac.za), the tutor programme coordinator. The programme provides additional academic support to the undergraduate students taking Psychology, both those students who would like to improve their marks and the students who are at risk of failing a module.
Tutors liaise directly with the lecturers, attend the lectures offered for each module and present tutorials based on the lectures on a weekly basis. The senior tutors coordinate the programme and assist the tutors with addressing the specific needs of the students attending the tutorials. This include academic as well as psycho-social needs.
Furthermore, workshops on study skills and other relevant topics pertaining to student life in general are presented by the senior tutors in a series of workshops and seminars entitled "Let's Talk About…". Some of the topics discussed in the LTA workshops include:
Let's talk about:
Academic vocabulary
Your study skills toolbox
Writing essays
Plagiarism
Being a first generation university student
Having a growth mindset
The Tutor Programme enables the Psychology Department to have more personal contact with students, which is vital in a department where some classes can be bigger than a thousand students at a time. Except for the small group or one-on-one contact time with students, social media is also utilised to give support as well as extension to the students.
2022 Psychology Tutors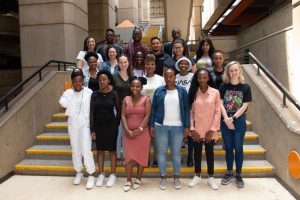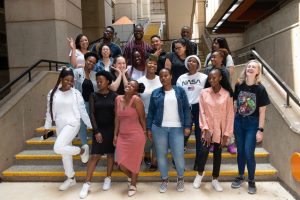 Online Exam Preparation with Psychology Tutors
Tutors' Tips on Academic Preparation with Online Learning
Psychology tutors share their experiences of learning online during a pandemic and how to succeed in your studies in the era of online learning.
Have a look at the following UJ Tuts Rock pages:
YouTube: https://www.youtube.com/channel/UCMtKtFljMcmQdDSV1vst9PQ
Pinterest: https://za.pinterest.com/ujtutsrock/
The senior tutors can be contacted at ujtutsrock@gmail.com.
Student Assistants
C Ring 440, the Student Assistants' Office, forms the hub of much of the student activity taking place in UJ's Psychology Department. The student assistants are the 'go to' people for any queries from students regarding tests, marks, timetables and a plethora of other important – and sometimes strange! – questions about the specific Psychology modules being offered in a semester, as well as general departmental enquiries. Student assistants also assist lecturers with copying and scanning of material, admin, and fetching and distributing the mail.
The Student Assistants' Office can be contacted on 011 559 3130 or psychologyadmin@uj.ac.za.