TRCTI Research Themes
Home » College of Business and Economics » SARChI-Trilateral Research Chair in Transformative Innovation (TRCTI ) »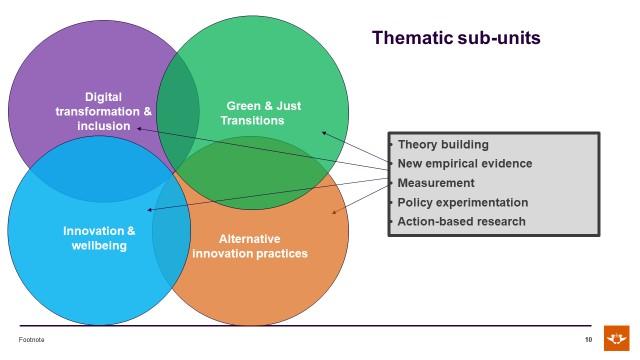 Digital transformation and inclusion: advanced digital technologies are increasingly available to marginalised communities. These technologies enable emerging innovation practices that are not generally captured in the literature.
Green and just transitions: innovative solutions emerging from marginalised communities, often adhere to the principles of recycling, reusing, and repurposing, with positive environmental outcomes. Including marginalised/vulnerable communities in considerations of innovation also lead to more inclusive outcomes.
Alternative Innovation Practices: this thematic area explores modalities of innovation and innovation activities that are out of the mainstream. This includes innovation in "unseen" spaces, such as the informal economy and marginalised communities.
Innovation & wellbeing: marginalised communities are those excluded from mainstream social, health, economic, educational, and/or cultural life. Understanding alternative innovation practices and their relation to the wellbeing of marginalised communities is central to inclusive development.