Graduation Information
Summer graduation ceremonies for 2022 will be held at the UJ Auditorium on the Auckland Park, Kingsway Campus between 12 October 2022 and 19 October 2022.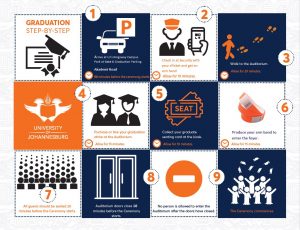 CHILDREN UNDER THE AGE OF 5 ARE NOT PERMITTED INTO THE VENUE. KINDLY REFRAIN FROM BRINGING CHILDREN TO VENUE. THERE ARE NO SUITABLE FACILITIES CATERING FOR CHILDREN.
GRADUATION PARKING

https://goo.gl/maps/haw7AKsFLS6uvLEK8
E-TICKET
All graduates will receive one e-ticket, which is valid for the graduate and three guests, except for doctoral candidates, who are allowed five guests. The e-ticket will be sent to you via email a week prior to your respective ceremony.
Doors to the graduation venue will close 10 minutes before the start of the ceremony. Graduates and guests must arrive at least an hour before the ceremony and be seated no later than 15 minutes before the ceremony.
No late graduates or guests will be allowed entry once the doors are closed.
Should you have missed or could not attend your 2022 graduation, kindly contact your respective Faculty / College for the collection of your certificate.
FEES, DOCUMENTS, OR LIBRARY FINES OUTSTANDING
All outstanding fees, library fines, or outstanding documents must be submitted by 24 June 2022. The onus is on graduates with outstanding matters to confirm that payment has been received by student finances, to inform the faculty of the payment made, or to ensure that your faculty have received any outstanding documents.
Should outstanding fees not be settled, you will still be allowed to attend the ceremony, walk across the stage, and take photos; however, your certificate and the academic record will be withheld.
If for whatever reason, you do not qualify for the conferment of the qualification, the University reserves the right to cancel the invitation.
PERSONAL DETAILS
By law, your certificate must reflect your full name exactly as recorded on your identity document or passport. The onus is on you, the graduate, to ensure the accuracy of the information at UJ Student Biographics so that all official documentation reflects the correct information.  Any change in biographical details must be submitted well in advance to ensure that graduation certificates are issued with the corrected information. Certificates for 2020 and 2021 candidates were printed at the time of virtual graduation and a reprint fee will be required for any changes made to these certificates.
Please verify the details provided in your letter, that will appear on your certificate.
Only if your details are incorrect, should you complete a change of details form and submit this along with a copy of your identity document or passport to the Student Enrolment Centre.
Download the Updated change of details form
(email address: biographics@uj.ac.za) to process the necessary amendments.
To avoid the costs associated with a reprint due to incorrect detail, potential graduates should ensure that their details are correct timeously as specified above.
Graduation Gown Hire or Purchase
Graduation gown hiring or purchase is for the graduate's account and no items are funded by UJ.
Download the form for hire and purchase here. Dippenaar Reinecke UJ Hire Purchase form 2022
Photography Booking
While photos are taken of every candidate on stage the purchase of photos is for the graduate's account and no items are funded by UJ.
Official Photographer information and online order form
Download the forms for ordering photos here.
Gordon and Harris Stage Form 2022 Fillable
Gordon and Harris Family Photographs 2022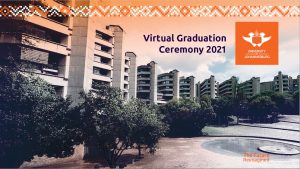 2021 GRADUATION CEREMONIES
2020 GRADUATION CEREMONIES
To arrange collection of your certificate (graduated between 2020- 2021), kindly email certifcates@uj.ac.za
Electronic Academic Record
Please follow these steps to access your Electronic Academic record
Visit the Alumni portal (click here or on the image below)
Select Alumni as your affiliation to the University.
You will be requested to type in your alumni/student number and pin number in order to proceed.
If you have forgotten your pin number, select "Request a pin" and a pin number will be sent to your email address.
If your email address has changed, please contact the UJ Call Centre at 011 559 4555 OR send an email to onlineapp[at]uj.ac.za
If you cannot remember your alumni/student number, please contact the UJ Call Centre at 011 559 4555 OR send an email to onlineapp@uj.ac.za
Additional information
UJ Virtual Campus
Ceremony information
1. Ceremonies
UJ will host graduation ceremonies in Summer 2022 at the UJ Auditorium, Auckland Park Kingsway Campus between 12 October 2022 and 19 October 2022. All candidates who complied between 1 March 2022 and 5 August 2022 are included in the Summer series.
Any candidates who comply after 5 August till 15 December 2022 will be included in the Autumn 2023 ceremonies held between 1 March 2023 and 31 May 2023.
2. Frequently asked questions
Click for a list of frequently asked questions regarding graduation
3. Contact details for enquiries
Have you read the content of your graduation invitation letter, read through the Frequently Asked Questions on the Website, and still have not been answered?
Contact the following channels.
Graduation Status – your relevant faculty
Certification and the Digital Certificates platform certificates@uj.ac.za
Alumni and eAcademic Records and the Alumni Connect platform alumni@uj.ac.za
Graduation Ceremony queries – graduation@uj.ac.za