First developed by the University of Queensland in 2008, the Three Minute Thesis competition (3MT®) challenges research students to communicate the significance of their projects to a non-specialist audience in just three minutes. 3MT provides research students with the opportunity to develop their academic, presentation, and research communication skills by explaining their research to an intelligent but non-specialist audience. The local UJ competition will challenge students to present face-to-face, and additionally the virtual final will hone skills associated from being filmed for an international audience, receiving international peer review, and gaining skills surrounding the presentation of their research to a wider audience.
Eligibility
Active Doctoral (Registered Ph.D. and Professional Doctorate (Research)) candidates (who have successfully passed their confirmation milestone by the date of their first presentation (including thesis under submission) are eligible to participate in the 3MT competition. Graduates are not eligible.
Rules
A single static slide is permitted (no slide transitions, animations or 'movement' of any description). This can be visible continuously, or 'cut to' (as many times as you like) for a maximum of 1 minute.
Presentations are limited to 3 minutes and competitors exceeding 3 minutes are disqualified.
The 3-minute audio must be continuous – no edits, breaks etc.
No additional props (e.g., costumes, musical instruments, laboratory equipment, animated backgrounds) are permitted.
Presentations are to be spoken word (e.g., no poems, raps or songs).
The decision of the adjudicating panel is final.
The video can be filmed from a live 3MT event or a specific set but must have only one camera angle filmed from a static position. Zoom in and out from the static position is acceptable.
No additional electronic media (e.g., sound and video files) are permitted within the video recording.
Presentations are considered to have commenced when a presenter starts their presentation through movementor speech (timing does not include the student's title slide).
Round 1: Submission of abstract and slide 30 June 2023 accompanied by an application on the RCD management system @rcdonline.co.za
Round 2: Panel feedback to successful entrants: 7 July 2023
Round 3: Final submission 14 July 2023
Competitor Guidelines, FAQ and other resources available at https://threeminutethesis.uq.edu.au/live-competition
DATE OF COMPETITION: 28 July 2023
You can register in advance to attend the event on Zoom, please click on the link:  Webinar Registration – Zoom
For more information, please email rcdenquiries@uj.ac.za
2023
UJ's Postgraduate School would like to congratulate the winners of the 2023 UJ Three Minute Thesis Competition!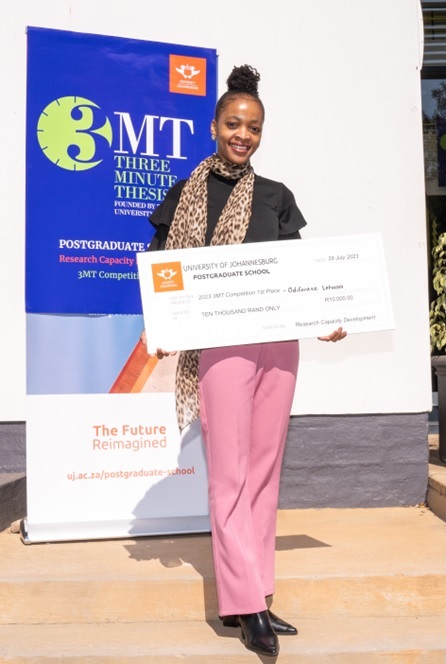 1st Place
Odifentse Lehasa
Faculty of Engineering & the Built Environment
Ms. Odifentse Lehasa will represent UJ in the
Universitas 21 (U21) 2023  3MT International competition.
We wish her all the best for the international competition.
Ms. Odifentse Lehasa will represent UJ in the Universitas 21 (U21) 2023 3MT International competition. We wish her all the best for the international competition.
2022
We wish to congratulate the following winners of the 2022 Three Minute Thesis Competition
2021
The Postgraduate School wishes to congratulate the following winners of the 2021 Three Minute Thesis Competition: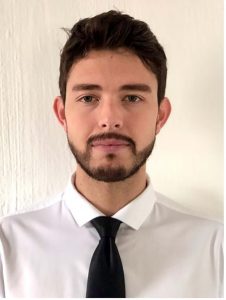 Dean van der Merwe
Department of Childhood Education
Faculty of Education
Topic: Lesson design in pre-service teacher education: foregrounding learning and the development of competencies for a fast-changing world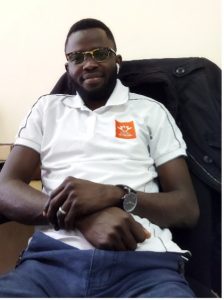 Opeoluwa Akinradewo
Construction Management and Quantity Surveying
Faculty of Engineering and the Built Environment
Topic: Development of a blockchain-based information management system for the construction industry
2019 Competition Winner (UJ)
2018 Competition Winner (UJ)
2018 Peoples Choice Award (UJ)