About Postdoctoral Research Fellowship
The Postdoctoral Research Fellowship at UJ is a prestigious one and affords its postdoctoral research fellows the opportunity to significantly enhance not only their education, but also provide to further their careers as academic researchers.
Our post-doctoral research fellows are productive and valuable members of UJ. They make a substantial contribution towards meeting research output and capacity development goals, both at national and international level. International postdocs enhance the internationalisation of UJ and have the potential to strengthen international research collaboration networks.
Post-doctoral fellows will be contributing to 4IR knowledge and these contributions can be from many disciplines, ranging through the humanities, law, business and economics, education, health sciences, sciences and engineering and the built environment.
The Postgraduate School (PGS) provides support to the University of Johannesburg's PDRF students. This is done through the Postgraduate Funding Management (PFM) area. PFM is responsible for communicating the various postgraduate funding options made available at UJ for PDRF level of research.
PDRF Funding
Please note that all funding opportunities advertised below are prefixed with the closing date for applications/submissions. Please read the relevant opportunity for more details:
Postgraduate Funding Opportunities brochure click here
2024 call for PDRFs GES 4.0 is open for applications.
Please note that the links to Master's, Doctoral, and Postdoctoral Research Fellowship (PDRF) Sintel online application forms are as follows:
Students and PDRFs whose research interests are aligned with 4IR are welcome to apply.
Closing Date: 27 November 2023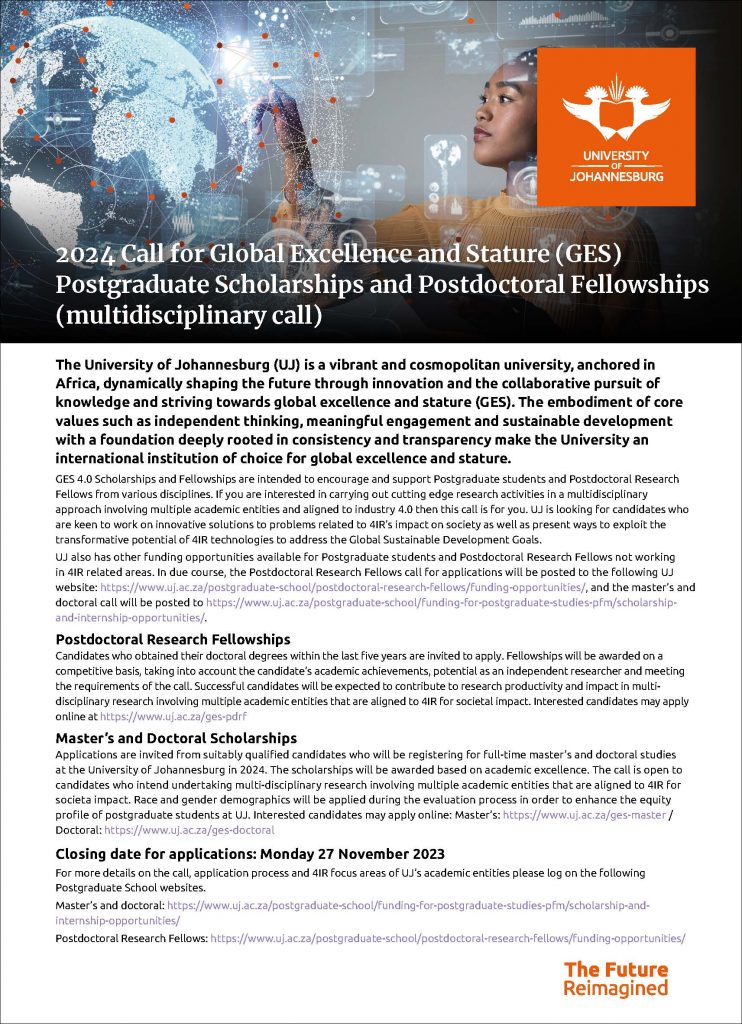 For more information, click here
Call Open for Postdoctoral Research Fellow 2024
The UJ Law Faculty is pleased to offer funded postdoctoral fellowships for the 2023/2024 period. We are actively seeking dynamic candidates who are enthusiastic about research associated with the fourth industrial revolution (4IR) as well as advancing the global Sustainable
Development Goals (SDGs)
The application deadline: 15 January at 5PM. For more information, click here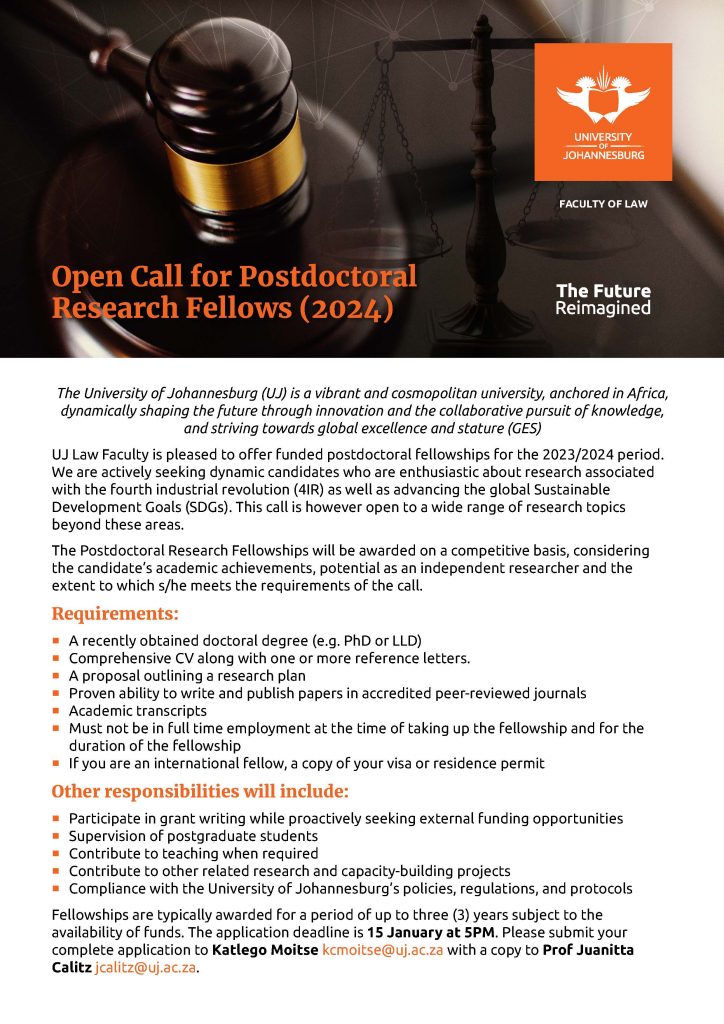 Please submit your complete application to Katlego Moitse kcmoitse@uj.ac.za with a copy to Prof Juanitta Calitz at jcalitz@uj.ac.za.