CALL FOR STUDENT ABSTRACTS
You are invited to submit your research informed by your postgraduate study for the student track of the 5th Gauteng
Environmental Research Symposium (GERS V), which will take place on 26 October 2023 at the University of
Johannesburg, South Africa.
Please use this link to submit by midnight on Sunday, 06 August 2023:https://forms.gle/jn3PTZBmvx5X8kN39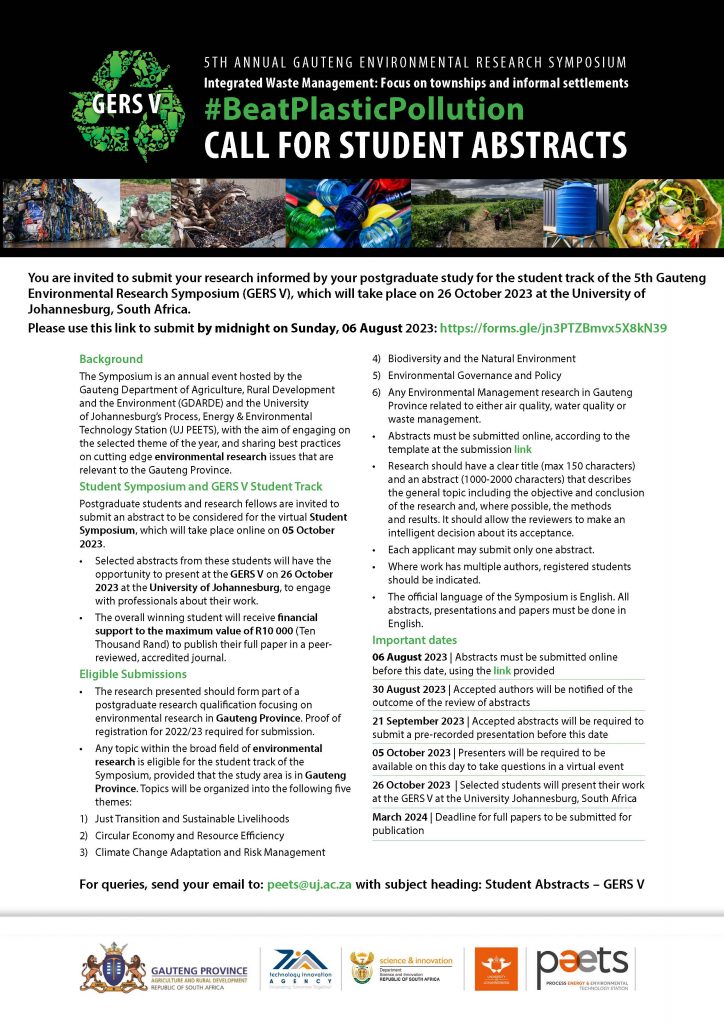 For queries, send your email to: peets@uj.ac.za with subject heading: Student Abstracts – GERS V
Call for applications for the CSIR bursary programme is now open
The bursary is open to academically qualifying young people and aims to attract and increase participation of women and black people in science, engineering and technology, specifically in the areas mentioned click here
To access the page with the full details of this call  https://www.csir.co.za/bursaries
Click here to apply https://csir.auraams.app/ 
Where: The Training Room, 1st Floor, Akanya Building, Postgraduate School, Auckland Park Kingsway Campus
Time: 11 am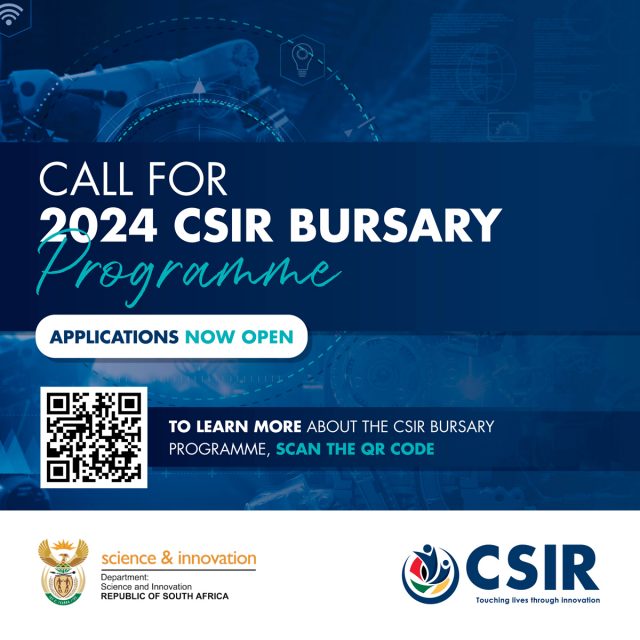 The closing date for all applications is Sunday: 20 August 2023
For more information on the CSIR bursary, please contact CSIR recruitment center:
Tel: +27(12) 841 3256
Email: bursaryprogramme@csir.co.za
TETA Applications for 2024 Unemployed Learner's Bursaries Now Open
Application Open: 23rd July 2023
Submission Deadline: 23rd August 2023 at 23H59
The online application system can be accessed through the TETA website (www.teta.org.za). The link to the TETA Online
Bursary Application System is: https://clarity.teta.org.za.
For more information, please click here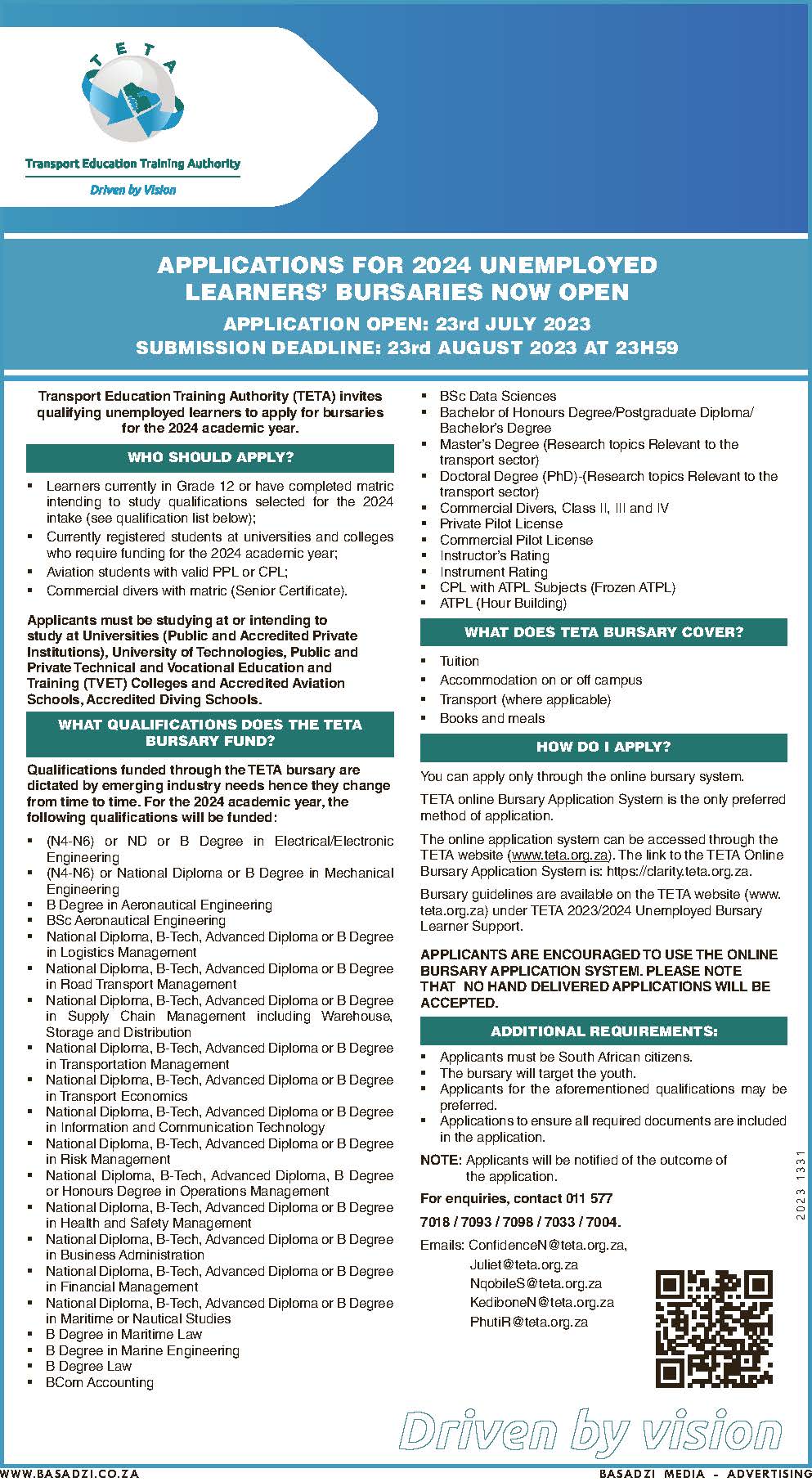 Become a McCall MacBain Scholar applications are open!
The McCall MacBain Scholarships at McGill bring together a diverse group of scholars who aspire to lead with purpose – individuals who have demonstrated leadership potential and an inner drive to make a positive impact in other people's lives. McCall MacBain Scholars pursue a fully funded master's or professional degree at McGill University, while connecting with mentors and participating in a leadership program.
Scholarships & Awards
10 McCall MacBain Scholarships (full funding)
25 Finalist Awards of $20,000
15 Regional Awards of $10,000
20 McCall MacBain Scholarships (full funding)
30 Finalist Awards of $10,000
30 Regional Awards of $5,000
The McCall MacBain Scholarship covers: •
Tuition and fees for an eligible master's or professional degree at McGill
A living stipend of $2,000 per month during academic terms
A one-time relocation grant for moving to Montréal
To apply click here
Closing date:  24 August 2023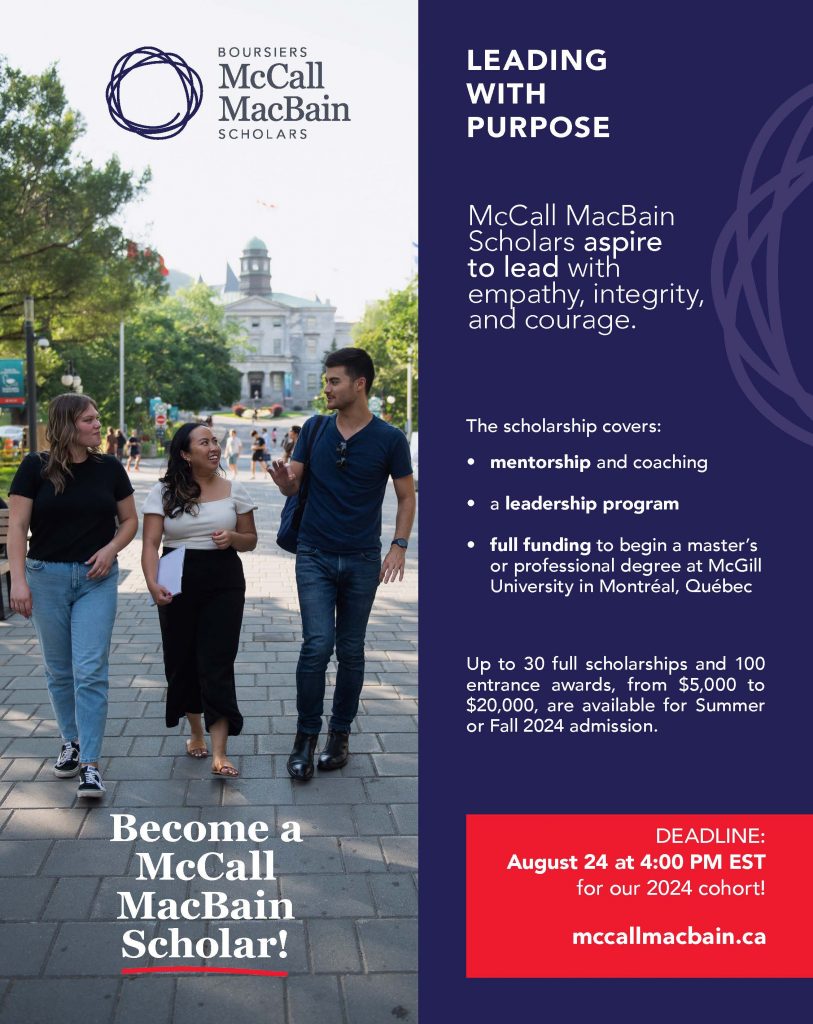 More about the Scholar, click here
2024 Call for applications: DSI-CSIR Inter-programme Bursary Scheme
The Department of Science and Innovation (DSI) and the Council for Scientific and Industrial Research (CSIR) invites applications for 2024 bursary under the DSI-CSIR Inter-programme Bursary Scheme (IBS). The IBS postgraduate bursary is intended for fulltime studies at any South African public university under specific themes.
Click here for more information https://www.csir.co.za/dsi-csir-inter-bursary-support-programme
Click here to apply https://csir.auraams.app/
The closing date for all applications is Wednesday, 30 August 2023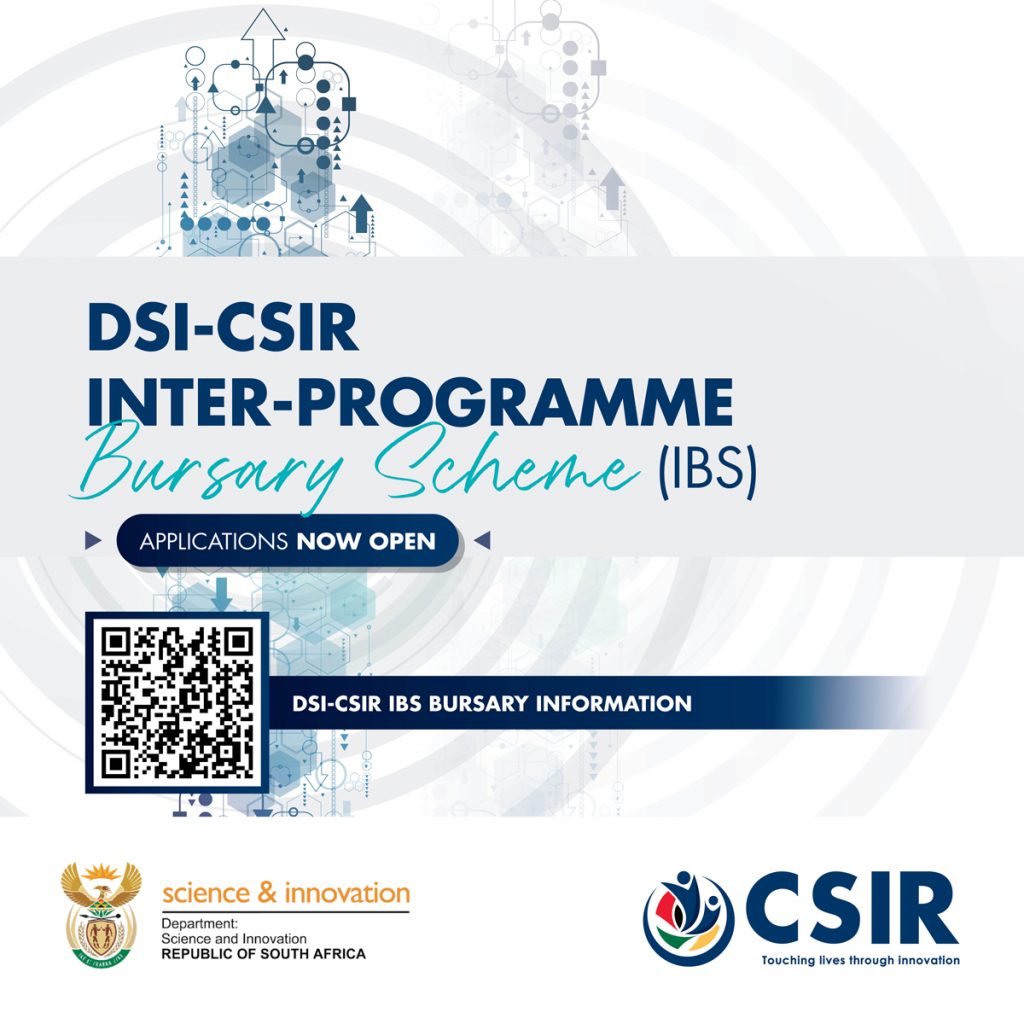 For more information on the DSI-CSIR IBS, please contact the CSIR IBS team:
Tel: +27(12) 841 3304
Email: hcd-interbursary@csir.co.za
UJ_ Accenture 4IR Work Readiness Programme 2023
University of Johannesburg (UJ) and Accenture entered into a Collaboration Agreement with the common goal of addressing the issue of unemployment and creating transformation in the space of 4IR technologies.
The work-readiness programme, resulting from the said collaboration, will be offered at the UJ premises.
Students who are passionate about new ideas, technologies, and innovation and who are inspired by continuous learning for improving technology in South Africa are welcome to apply.
Upon completion of the work-readiness programme, students will acquire skills associated with Artificial Intelligence, Blockchain, Analytics, Internet of Things (IoT) and Virtual Reality.
The programme is ideal for students who have completed their NQF level 7 qualifications and who are unemployed and not registered for any other qualification at UJ.
Apply by filling in the Google form at: https://l8.nu/qjB6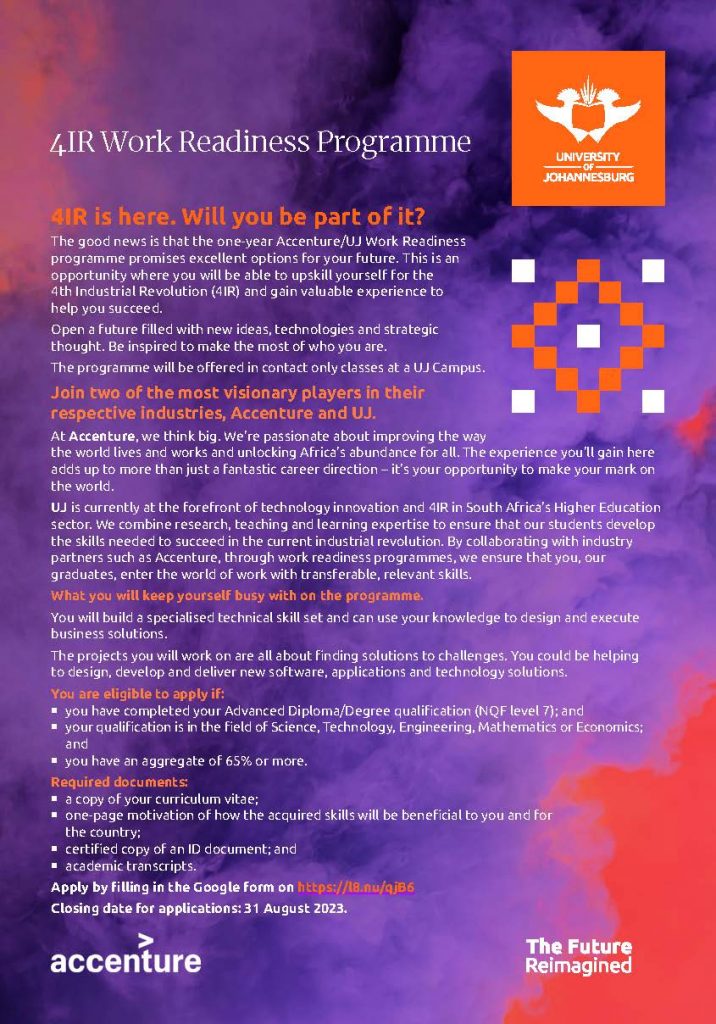 Closing date for applications: 31 August 2023.
For more details about the application process, students are welcome to contact: Ms. Dudu Mbatha (rdmbatha@uj.ac.za).
Barry Bredenkamp Bursary Programme
The Centre for Applied Research + Innovation in the Built Environment (CARINBE) at the University of Johannesburg in partnership with South African National Energy Development Institute (SANEDI) invites you to apply for the Barry Bredenkamp Bursary Programme.
The Barry Bredenkamp Bursary Programme invites suitably qualified and highly motivated applicants from the University of Johannesburg in the Faculty of Engineering & the Built Environment and Faculty of Science to apply for the Bursary to undertake Postgraduate research (Masters or Phd) under the thematic area of Power Grid Digitalisation
or any one of the below topics:
E-mobility technologies and adaptation, Monitor Green E-mobility strategy.
Charging of electrical EV Charging infrastructure, location, cost.
Coordinated Voltage Regulator and Smart Inverter Settings with High Levels of DER.
Cybersecurity considerations for Distributed Energy Resources.
Enhancing Infrastructure Digitalisation through Digital Twins.
Submission Link: https://form.jotform.com/carinbe/barry-bredenkamp-bursary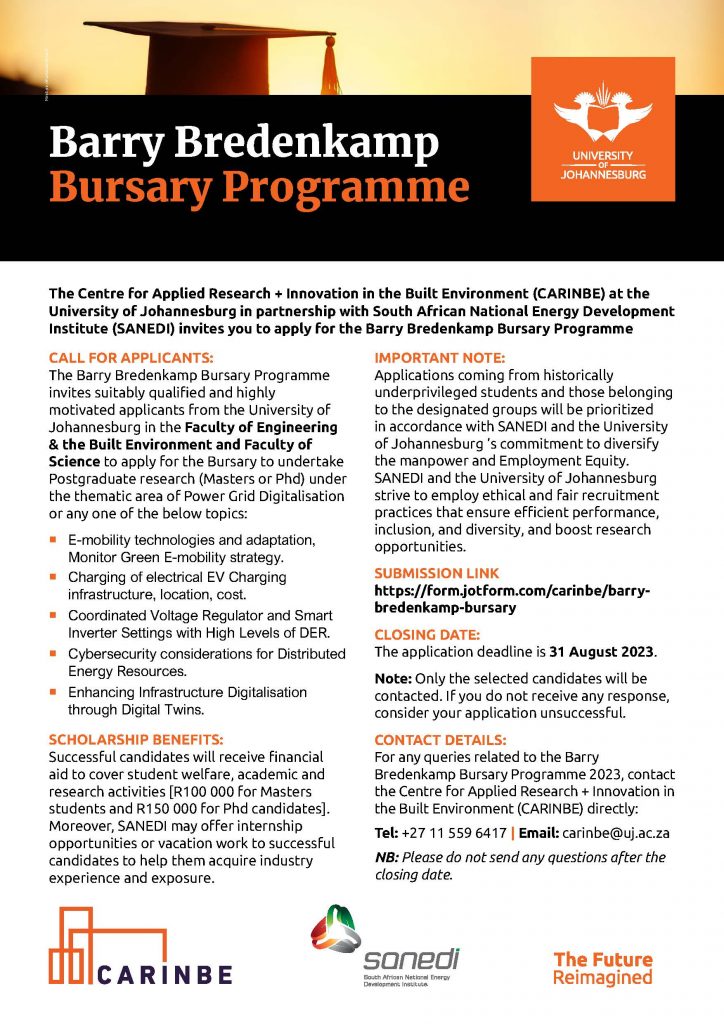 Closing date: 31 August 2023
Rothschild & Co (South Africa) Foundation Scholarship Applications for 2024
The call for Rothschild & Co (South Africa) Foundation Scholarship Applications 2024 is open.
Closing date: 31 August 2023
Applications are intended for honours students in below fields:
-Accounting Science (Honours or PGDA),
-Econometrics
-Business Science
-Actuarial Science
-Mathematical Science
-Computational & Applied Mathematics
-Data Analytics
Students may apply by completing the application form together with supporting documents and email to lynn.waterson@rothschildandco.com
Standard Bank Risk & QUANT graduate programme applications are open now!
Applications are OPEN
We are pleased to advise that our applications to the Risk and QUANT graduate programmes are open.  This mail will provide more information about the process and how to apply.
The Recruitment Process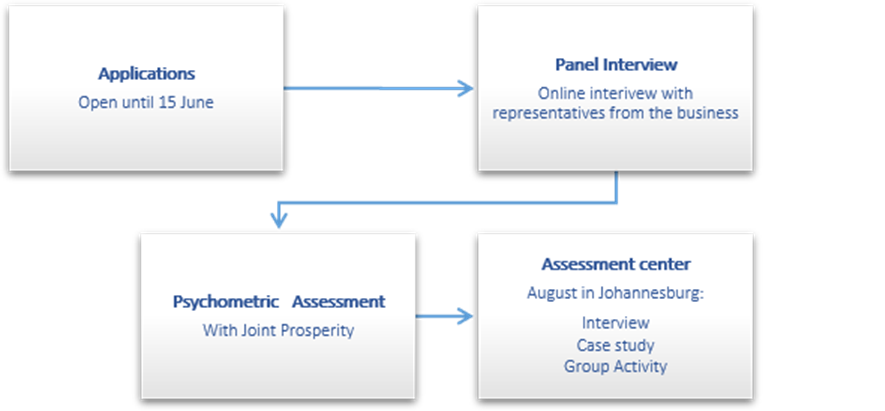 How to apply
Kindly access our Early Careers Portal, to find all the information about our programmes.  Early Careers Portal
To apply for the Risk graduate programme:  Risk Link
To apply for the QUANT graduate programme:  QUANT Link
Follow us on social media to keep up to date with our offerings.
Management Consultant job opportunities

The Management Solutions is an international business consulting firm with more than 3.000 employees in 36 offices around
the world, which has recently established an office in Johannesburg. Our core mission is to deliver business, risk, financial, organization, process and technology-related advisory services.
We offer an international career plan (full permanent positions) and we are already recruiting with immediate effect. In this sense, we are looking for candidates with an interest in a career in the Banking industry, preferably in Global Markets / Financial Markets industry.
If you are interested, please send your CV to human.resources@mssouthafrica.com or complete your online application form at www.managementsolutions.com