Home » UJ Library » Information Resources » Special Collections » Online Exhibitions »
NJ van Warmelo Language and Anthropology Collection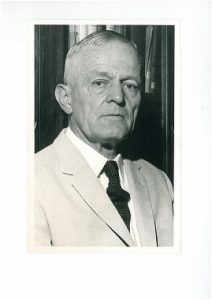 NJ van Warmelo, South African linguist and a state anthropologist of international standing. Born 28 January 1904 in Pretoria, the only son of Willem van Warmelo. Matriculated in 1921 at the Oosteind Hoërskool and obtained his MA in Classical Languages (cum laude) from Stellenbosch University. He obtained his doctorate (cum laude) in 1927 from Seminar für Afrikanische Sprachen in Hamburg with a thesis, titled Die Gliederung der Südafrikanische sprachen.
Multilingualism. As a schoolboy, he was fluent in all the black South African languages. He spoke Dutch, Afrikaans, German, and French and could read other languages, such as Swedish and Russian.
Nicolaas Jacobus van Warmelo was appointed State Ethnologist on 7 March 1930 until 1969 when he officially retired. As a state ethnologist, he strived to obtain input from knowledgeable black people when recording anthropological research data. He produced one standard work after the other and served on various committees and councils. He received recognition from various organisations for his contribution to the ethnological and linguistic field.
His collections on Language and Anthropology consist of books, unpublished manuscripts, periodicals, photographs, dictionaries, microfiche, microfilms, and memorabilia on ethnographical and ethnohistorical data on the indigenous people of South Africa and Africa. Researchers in the field of humanities, anthropology, African languages, land rights, tribes and trade, and genealogy can benefit from using this collection.
References
COERTZE, RD 1989: NJ van Warmelo, 1904-1989. South African Journal of Ethnology, 12(3): 85-90.
HAMMOND-TOOKE, WD 1997: Imperfect interpreters: South Africa's anthropologists, 1929-1990. Johannesburg: Witwatersrand University Press, p. 109-118.