Prof Raniga visits the United States
| | |
| --- | --- |
| In May 2023, Prof Tanusha Raniga visited four universities in the United States. She was invited to do three presentations to students and staff based on her research paper on Women in Precarious Employment in South Africa's Economy which provides evidence for complex reciprocity practices in informal economic activity and self-employment. | |
The study follows the lives of 16 single mothers as they discuss the difficulties they face while working in the second economy. It contends that these types of informal subsistence activities are economically important and secondary, supplementing the first economy in a variety of ways. The paper aims to add to discussions on gender and economic development by urging policymakers to assist the livelihood plans of women living on the periphery of the first economy. You can download the three presentations here:
Prof Raniga delivered the keynote address at the Pinderhughes Diversity Lecture at the Boston College School of Social Work. Her presentation was titled Developmental Social Welfare and Sustainable Livelihoods: Lessons from South African Innovations. You can read more about her address here.
At Simmons University in Boston she delivered a presentation titled Women's Role in the Economy.
Prof Raniga also delivered a presentation titled Social Protection Policy and Poverty Experiences of Women in South Africa: Lessons from an NGO Facilitating Entrepreneurship at Touro College: School of Social Work in New York.
Prof Raniga also visited Columbia University: School of Social Work where she had a productive meeting with Dr Mashkura Akilova who is a lecturer in the Discipline of Social Work. Dr Akilova shares social policy teaching interests with Prof Raniga and research interests with migrants living in SA and the US.
"We discussed the possibility of forming a research partnership and MA/PhD student/teacher exchange partnership between UJ and Columbia University. These discussions are ongoing, and I am confident that we will have an MoU between the two universities signed soon" said Prof Raniga
DAAD Symposium 24 – 27 July 2023
The Global Transformation and Social Work Practice is a partnership under DAAD, a German academic exchange organisation. The partnership is made up of four universities – Fachhochshule Dortmund, University of Johannesburg (through SARChI Welfare and Social Development Interim Chair Prof Tanusha Raniga), University of KwaZulu-Natal and Midland State University.
The four-year programme aims to build Sustainable Development Goal partnerships between countries of the "Global North" and the "Global South".
In July, Prof Raniga and her team organised an event in collaboration with DAAD at the UJ JBS Park campus in Auckland Park. This event was part of the Global Transformation and Social Work Practice partnership. The symposium spanned four days and centred around the theme of "Human Rights, The Sustainable Development Goals, and Social Work Practice in Germany and Africa."
| | |
| --- | --- |
| The first day commenced with a warm welcome from the DAAD Research team and Prof Kammila Naidoo, the Executive Dean at the Faculty of Humanities at UJ. She said, "I hope that this symposium will create many new opportunities for the sharing of important research and insights across the North and South and create space for clarification of core problems that could become central to a new agenda that will bind and sustain relations between all the universities participating here." | |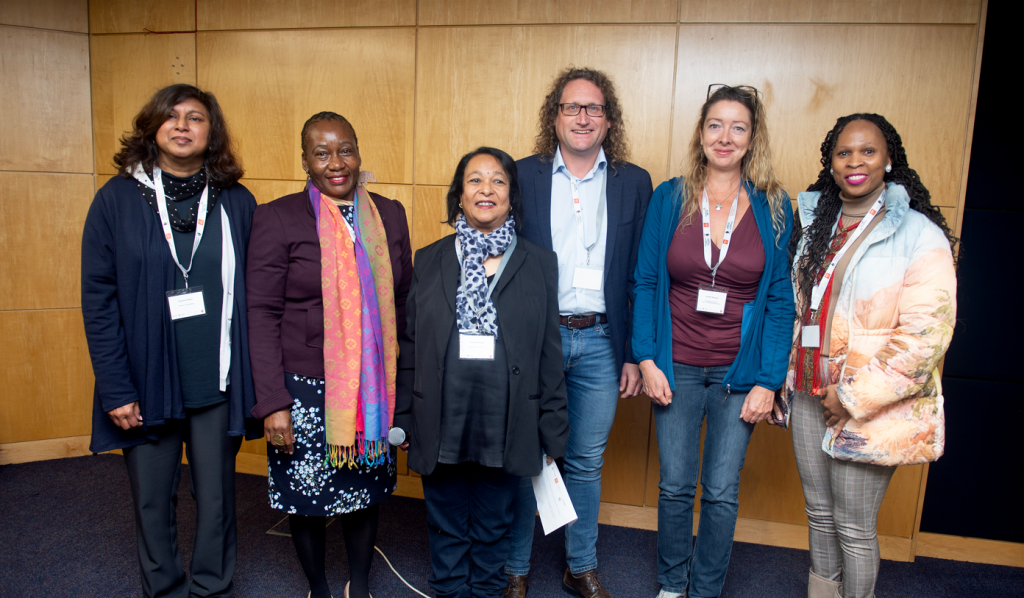 From the left: Prof Kammila Naidoo, Dr Mildred Mushunje, Prof Tanusha Raniga, Prof Michael Boecker, Dorothée Boecker,  Dr Maud Mthembu.
Subsequently, students engaged in experiential group activities, which culminated in presentations on a range of research topics related to the Sustainable Development Goals and covered the following themes:
The living conditions of women and children in poverty in Johannesburg
The impact of the Ukraine/Russia war on social work
Covid-19's effects on the poverty experiences of single mothers in the uMkhanyakude District, KwaZulu-Natal (KZN)
The influence of disasters and globalisation on poverty programs in KZN
Lessons on food security, nutrition, and child well-being from Gauteng & Limpopo
The ramifications of economic globalisation on families in post-Covid-19 Zimbabwe
Distinguished guest speakers Dr Jessie Turton, a senior research fellow at UJ and Dr Tracie Rogers Lecturer from the University of West Indies also presented on GBV. Both presenters expanded on the theme of gender equality and intersectionality, exploring subjects like South African and West Indies' perspectives on women, poverty, and gender-based violence, as well as the role of values, culture, and policy in addressing these issues through social work responses.
The symposium facilitated collaborative work among students, allowing them to present jointly, fostering valuable networking opportunities and deeper connections with their peers. Beyond the academic sphere, the students had the chance to explore a bit of South Africa – beginning with a visit to the UJ food garden, which is integral to the university's food justice initiative. Additionally, a visit to the Rosebank Market exposed students to an array of local creative arts and crafts.
The concluding day of the event featured a guided tour of Soweto led by Vangeli Dlamini, a staff member at the CSDA. This tour encompassed historically significant sites, including Nelson Mandela's House, Chris Hani Baragwanath Hospital, and Vilakazi Street. The students also had the opportunity to expand this exhilarating experience at an intercultural networking and social dinner.
Bongane Mzinyane, Social Work lecturer and PhD candidate, wrote a poem that captures the symposium wonderfully. You can read it here.
WIISA CONFERENCE August 30 - 31 2023
The Institute for Pan African Thought and Conversation (IPATC) at the University of Johannesburg proudly hosted the Women's Impact: Innovation and Sustainability in Africa (WIISA) conference on August 30th and 31st. This conference is a part of IPATC's ongoing commitment to enhancing the economic empowerment of women in alignment with the Sustainable Development Goals (SDGs) and Agenda 2063. The event successfully brought together a diverse array of participants, including academics, investors, activists, public employees, and experts from around the world. The central theme of the conference was to explore the challenges hindering women's financial inclusion and to discover the untapped potential for their economic empowerment.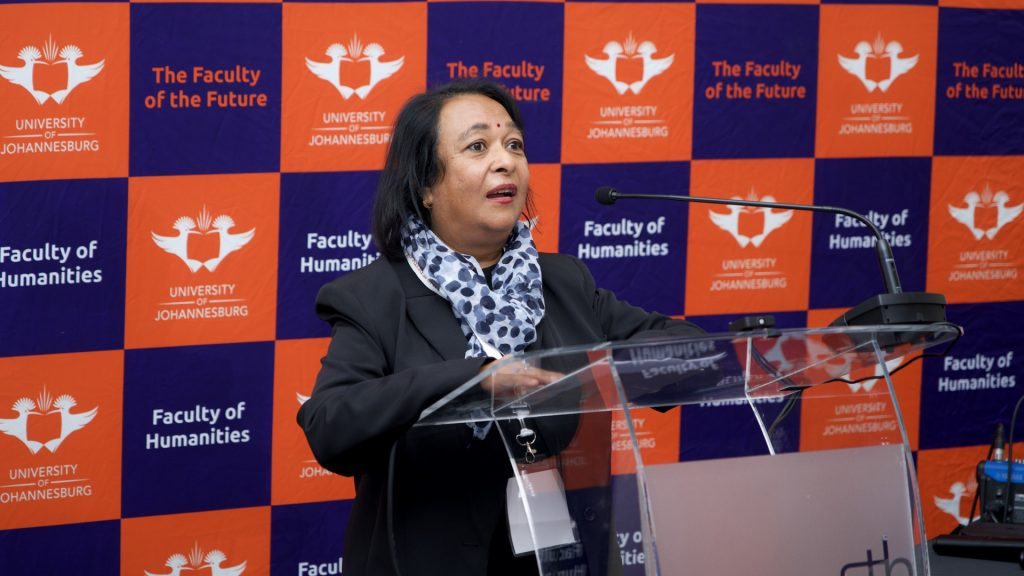 Among the esteemed speakers at the conference was Professor Tanusha Raniga, serving as the INTERIM DST/NRF Research Chair in Welfare and Social Development at the Centre for Social Development in Africa (CSDA), University of Johannesburg. Her presentation shed light on the transformative and invaluable role women play in various societies, with a specific focus on African economies.
In her address, Professor Tanusha emphasised the increased attention given to the role of women in African economies over the past two decades. This issue has been a longstanding concern for social development scholars and practitioners. Professor Tanusha pointed out that South Africa's economic growth, masked by the onset of the COVID-19 pandemic, tuck away the deepening gender inequality and structural issues that have perpetuated the feminization of poverty.
She stated, "I argue in many of my published papers that neoliberal globalisation has perpetuated the plight of women who work as informal traders in the second economy and who continue to suffer from discrimination inherent in structural adjustment."
Professor Tanusha's presentation also highlighted a key issue: the relationship between women and the labour market. She emphasised that women's income and food insecurity can be primarily attributed to the inadequately designed and targeted systems intended to support women who work as informal traders, as acknowledged by the National Strategic Plan of the Department of Social Development in 2020. These challenges in policy implementation underscore the need for practical interventions to bridge the gap between policy statements and transformative programs. In conclusion, Professor Tanusha Raniga left the audience with a profound call to action. She urged scholars, practitioners, and policymakers to come together to promote gender justice in Africa. The goal is to stimulate partnerships and intellectual engagement that will not only advance knowledge but also translate into effective social development practices on the continent.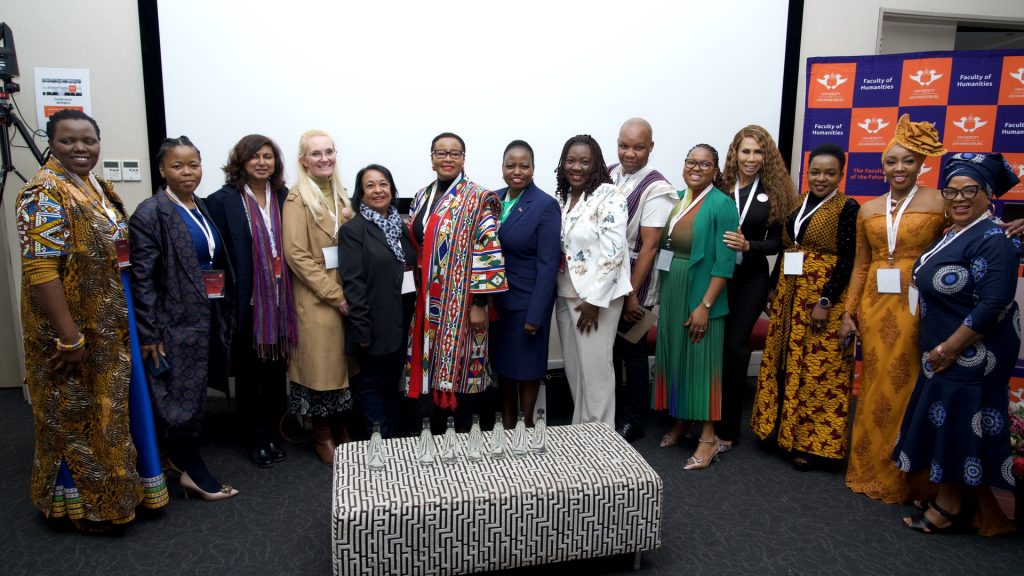 Social Workers Reflecting on The Intersecting Realities Within Transformative Neoliberal New Managerial Agenda 14 November
Prof Tanusha Raniga hosted a Social Work networking event titled Social Workers Reflecting on The Intersecting Realities Within Transformative Neoliberal New Managerial Agenda. The event was a chance for social workers to reconnect after COVID-19 and is the start of a series of future connections. At the event, Dr Velo Govender – Prof Raniga's doctoral graduate – presented her PhD findings about the consequences of neoliberalism and new managerial practices in the child welfare sector. Dr Leandi Erasmus also presented findings from her PhD titled A Transformative Developmental Social Work Curriculum.
"What always strikes me is the insight and the way of working that social workers bring to the table. There is an implicit understanding of the links between the challenges that people face in their personal lives and how society shapes that. There's a deep ethic of care towards people and there's a way of engaging with people in communities that social workers just have deep within them." – Prof Lauren Graham, CSDA Director
Dr Velo Govender is a private social worker and family therapist and chairperson for the Ubuntu Community Chest in KZN. Her doctoral study titled Neoliberalism, New Managerialism and Social Work Practice: Perspectives of Child Welfare Social Work Managers and Practitioners highlighted two key themes:
Prioritising administrative or professional engagement
Minimal acquaintances/awareness of organisational financial policies.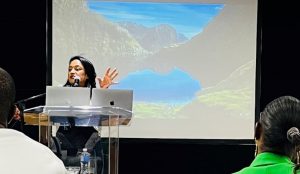 The study's findings show that South African Child Welfare organisations grapple with tensions arising from new managerialism, observed among boards of management, social work managers, and social work practitioners. Similar tensions extend to the broader context, manifesting between social workers in government positions and those in the child welfare sector. Despite social workers' dedication to transformative initiatives for the betterment of the impoverished and vulnerable, persistent challenges rooted in contextual and structural factors persist within the neoliberal work environment.
The adverse impact of the neoliberal economic doctrine and the marketisation of child welfare services is evident in strained organisational relationships, undermining social work's commitment to equality and social justice. In conclusion, with limited budgets and resource access, social workers face discouragement and helplessness in meeting the optimal needs of their clients. This plight often goes unnoticed by boards of management, government officials and policy directors. The study suggests a collective response from social work managers and practitioners to advocate for changes in policy and managerial practices. Additionally, it calls for a challenge to oppressive structural systems through connections with global, regional, and local social work associations. Emphasising the transformative agenda, the study underscores the importance of embracing Afrocentric practice. This approach allows social work managers and practitioners to reclaim and promote local strengths and processes, aligning with the developmental needs of the communities they serve.
You can view Dr Govender's presentation here.
Dr Leandi Erasmus is a Post Doctoral Research Fellow at the CSDA, she also runs a thriving private psychosocial clinical practice. Her study found that transformative developmental social work, rooted in social development theory, emerges as a preferred approach for social work practice in Global South nations, empowering practitioners to contribute to social justice in societies grappling with inequality.
Despite the integration of developmental social work into South Africa's social welfare policies, a knowledge gap persists, hindering social workers in bridging the divide between theoretical training and practical application in Global South contexts. Consequently, there is a need for South Africa to develop social development training and practice tailored to its unique socio-political, cultural, and economic environment. Achieving this objective requires a curriculum that prioritises social justice, human rights, and equality.
The study's objective was to create an undergraduate social work curriculum focused on transformative developmental social work to equip social workers to actively promote social justice. Employing a multi-method and multi-phased approach, the curriculum and programme development proceeded through distinct stages. Phase one involved a scoping review of current social development teaching in the Global South. In phase two, a quantitative cross-sectional study was conducted with recently graduated social workers, assessing the Social Justice Scales of Torres-Harding et al. Phase three comprised a qualitative descriptive study involving young South Africans sharing their experiences of social justice in the country. These phases provided essential insights guiding the curriculum development process.
To validate the curriculum content, the Delphi Technique involved soliciting input from social work teaching experts. The result of this comprehensive research study is a transformative developmental social work training curriculum designed for undergraduate social work students.
View Dr Erasmus' presentation here.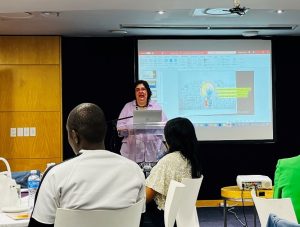 Fazeela Fayers is a former practising social worker of 10 years in child welfare and labour organiser who works across sectors such as public health etc. She spoke about the role of everyone as the collective, in transforming social work and made some recommendations going forward: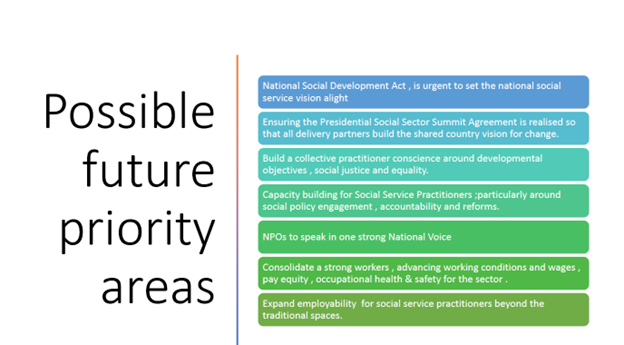 View Fazeela's full presentation here.
The presentations at the event raised consciousness and challenged people's thinking and collective action. Next on the agenda was what to do from here and how to create a collective action. Dr Jessie Turton and Prof Linda Harms Smith are the founding members of the Social Work Action Network (SWAN) South Africa. SWAN is a radical, campaigning organisation of social work and social care practitioners, students, service users, carers and academics. They spoke about its ethos and led a discussion on how to transform the social work sector in South Africa.
The aims of SWAN are:
To promote a model of social work practice which is rooted in the value of social justice, which seeks to advocate alongside, and on behalf of, carers and service users and which values both individual relationship-based practice and also collective approaches.
To challenge the domination of social work and social care services by managerialist perspectives and practices which prioritise budgets, targets and outcomes over the needs of the people who use these services.
It does this by bringing together practitioners, students, carers, service users and academics through regular conferences and campaigning activities in support of the above objectives.
They appealed to all in attendance to join this movement and many have since joined the SWAN SA WhatsApp group.
You can view the full presentation here and read more about this movement here. If you are interested in joining the WhatsApp group to add your contributions and join the movement here is the link.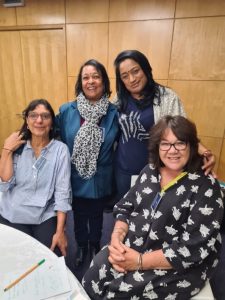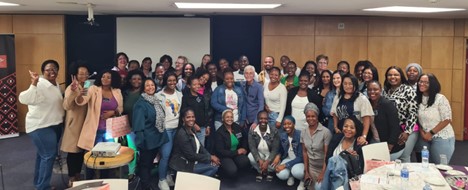 Social workers attending the networking event: Social Workers Reflecting on The Intersecting Realities Within Transformative Neoliberal New Managerial Agenda.