African Philosophy and Decolonising Knowledge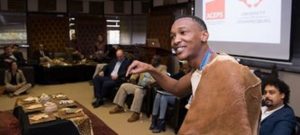 The decolonisation of knowledge is a major aim of the UJ, and the Philosophy Department is naturally leading the way.We aim to do the kind of context-relevant Philosophy that helps us reclaim Africa's cultural heritage, restore African identity, heal the wounds of the colonial and apartheid past, and deal with intergenerational and interracial trauma. We already have the top-rated philosopher in Ubuntu and African Philosophy.
We also work on the philosophy of race, epistemic injustice, poverty, the environment, and medicine, all topics entangled with where we are today.
Check out our department and awesome team and the cool things we do.