Thandika Mkandawire Prize 2022
Home » College of Business and Economics » Schools » School of Management » South African Research Chair in Industrial Development »
Announcement of the Award of the 2022 Thandika Mkandawire Prize for Outstanding Scholarship in African Political Economy and Economic Development and the Prize for Young Scholars
The African Programme on Rethinking Development Economics (APORDE) and the DSI/NRF South African Research Chair in Industrial Development (SARChI Industrial Development) are delighted to announce the winners of the two prizes for 2022.
The Thandika Mkandawire Prize for Outstanding Scholarship in African Political Economy is awarded to Dr. Eyob Balcha Gebremariam for the article 'Thandika Mkandawire's model for an African Developmental State and the Ethiopian Experiment (2001 – 2018)', as selected by the panel of prize judges.
The Thandika Mkandawire Prize for Young Scholars is awarded to Ayabonga Cawe, for his article '"Delangokubona'' and the distribution of rents and opportunity – an exploration of tensions over race-based policies of redress and redistribution in South Africa', as selected by the panel of prize judges for the Young Scholars prize.
The judges were impressed by both articles and by their engagement with the principles of critical analysis embodied and reflected in the work of the late Thandika Mkandawire as well as by their scholarly qualities. As administrators of the prize, we would like to congratulate the 2022 winners!
We received many excellent submissions for both prizes and we are grateful to all those who submitted their work.
We thank all those involved in the 2022 prizes, including SARChI staff as well as those who sat on the longlisting, shortlisting and decision panels for the two prizes: Professor Jimi Adesina, Professor Dzodzi Tsikata, Professor Fantu Cheru, Professor Mwangi wa Githinji, Professor Vusi Gumede, Professor Lyn Ossome, Dr. Omano Edigheji , Professor Lindsay Whitfield, Dr Richard Itaman, Dr Laura Mann, Professor Nicolas Pons-Vignon, Dr. Sara Stevano, Professor Tinashe Nyamunda, and Professor Alexis Habiyaremye.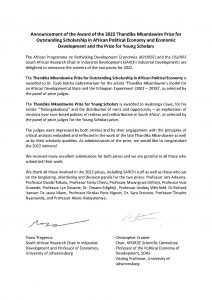 ​