School of Management Alumni Affinity Group Launch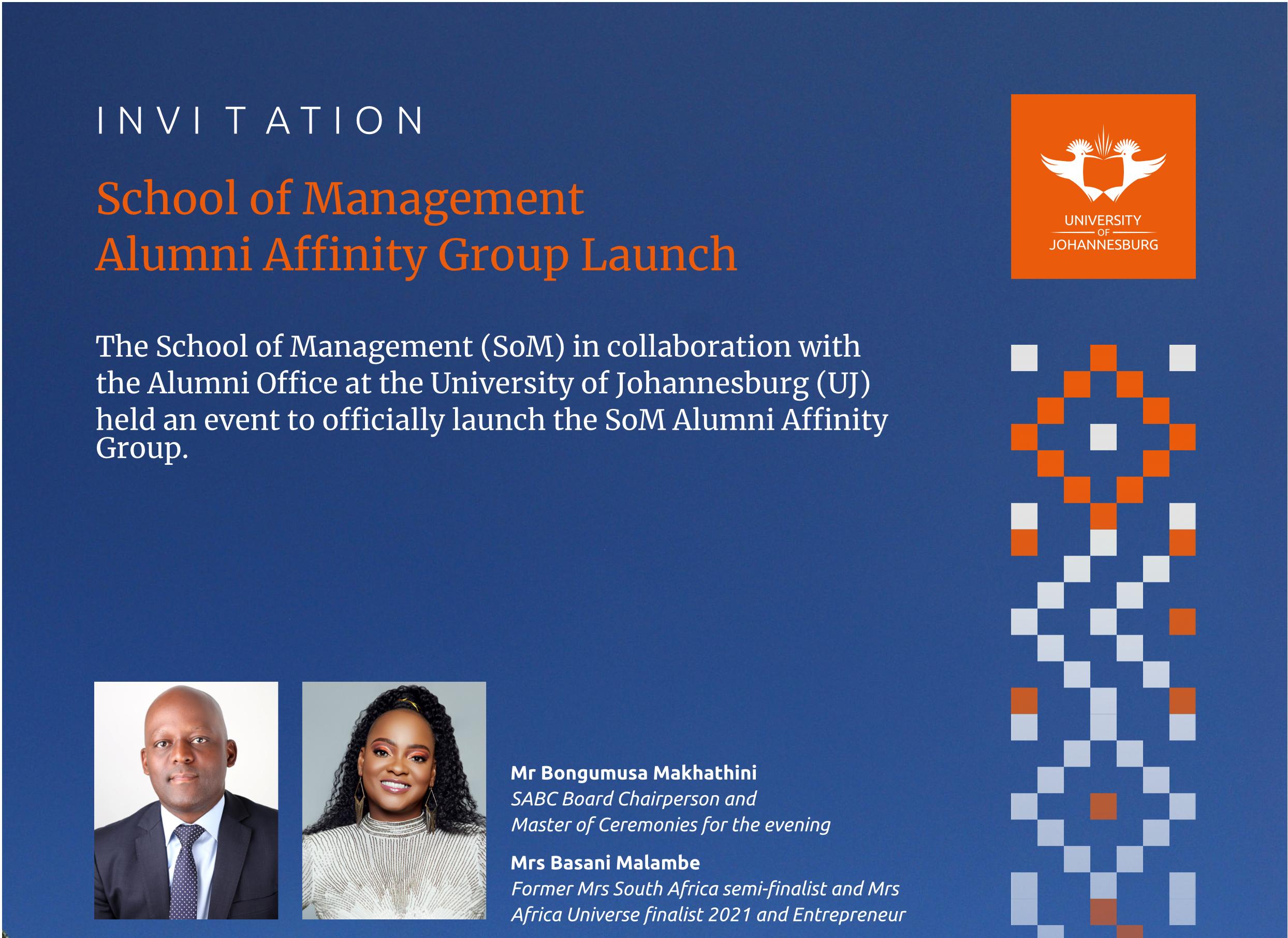 The School of Management open their Alumni Affinity Group
The School of Management (SoM) in collaboration with the Alumni Office at the University of Johannesburg (UJ) held an event in May to officially launch the SoM Alumni Affinity Group.
The SoM Alumni Affinity Group is a group formed by either an alumnus or a faculty on the basis of mutual collaboration, similar subject matter or affiliation. 
The South African Broadcasting Corporation (SABC) Board Chairperson Bongumusa Makhathini, who was the master of ceremonies (MC) for the event, said events of this nature are important because universities are made by their alumni.
"Universities become great because of the product they produce. When you play an active role in universities you assist in preserving your own qualification, because if a university continues to do well it means your qualification will be respected," he said.
The launch saw council representative and member of the executive committee Confidence Tshilande giving an address on the role convocation and the opportunities made available by the Alumni Connect and Mentorship. The professional civil engineer touched on the projects that have been established by the convocation between 2020 and 2022. These include the Affinity Groups and chapters (which are regional, town or city-based groups of the university alumni who want to formalise their relationship with the university), and Graduate Employability, amongst others.
"What I like about being a UJ alumnus is that you get to engage, reconnect and expand your network, and you are exposed to mentorship," she said.
The Director of the School of Management Professor Adri Drotskie said as the School of Management of the university, they educate and train the managers and leaders of the future.
"We are proud of that and are cognisant of the fact that we are dealing with a big responsibility: the people who are going to lead in future," she said.   
Former Mrs Universe Africa 2021 semi-finalist Basani Malambe, who is a registered psychometrist by profession, also made an appearance at the launch, saying her qualification didn't only help her progress professionally or academically but it also helped her realise her dreams. She holds a Master's degree in professional and personal leadership from the University.
UJ alumnus Nompilo Msibi spoke about the benefits of having a strong alumni network. "Building and maintaining relationships with alumni is crucial to the growth of any institution," she said.
The keynote address was offered by the Executive Dean of the College of Business and Economics (CBE) Professor Daneel van Lill, who said that he was privileged to be part of a team taking care of 27000 students. "As an organisation we hold a huge responsibility: we develop critical thinkers, problem solvers who are concerned about the way we do business, our economy and about society's wellbeing," he said.
The event closed off with a Q and A session with the audience and a vote of thanks to the attendees by Senior Manager of the Faculty Coordination and alumnus, Nell Ledwaba.
School of Management Alumni Affinity Group Launch