Risk and Uncertainty in Finance and Economics
The School of Economics at the University of Johannesburg in collaboration with the Center for Mathematical Economics at the Bielefeld University in Germany are cordially invites scholars to submit research papers for presentation consideration at the First Financial Engineering Meeting that will take place on 04 – 07 April 2023 in Johannesburg, South Africa.  The meeting, aims to bring together academics, sharing their research findings and discussing current and challenging issues in the research areas of "Risk and Uncertainty in Finance and Economics".
This meeting is an ideal occasion for local academics to team up with scholars around the world in presenting their research, exchanging research ideas and experiences, and developing research projects.
The organizing committee welcome submissions in all areas of risk and uncertainty for presentation at the conference no later than 30 January 2023 (early submission is highly encouraged). Please see more information here
Venue
4 & 5 April 2023 – Madibeng (APK)
6 & 7 April 2023 – Glen Afric Lodge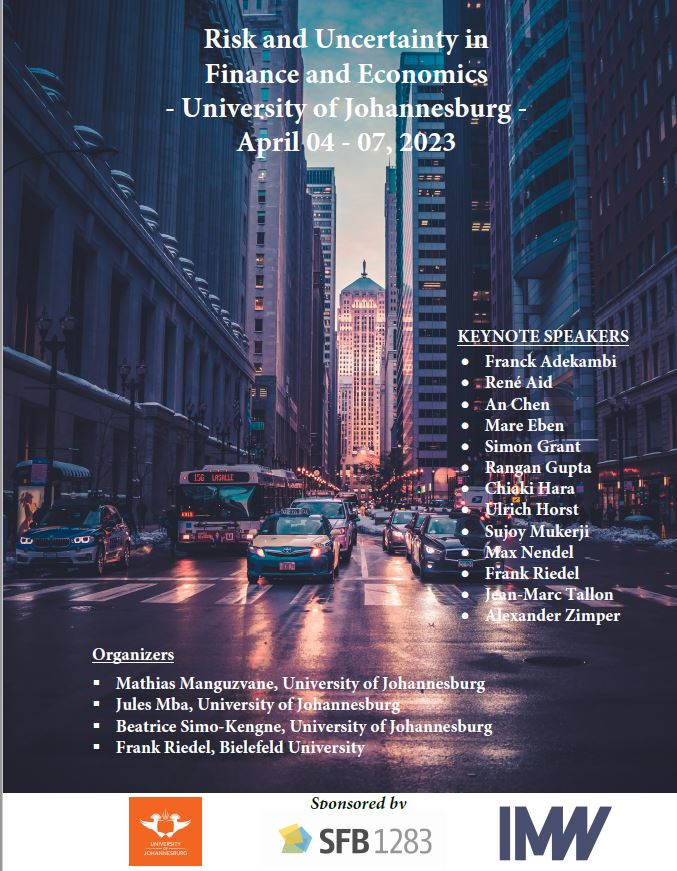 April 4, 2023 April 5, 2023 April 6, 2023 April 7, 2023