The University leadership will continue to monitor the situation, and any decision may be reviewed, as required. We appeal to all to practice the recommended precautionary measures, such as hygiene and social distancing, all the time.
We wish to remind all to remain vigilant and to adhere to the precautionary measures against Covid-19, and these include:
Covering your nose and mouth when sneezing;
Washing your hands thoroughly and regularly with soap and water or an alcohol-based hand-rub;
Refraining from touching your face, eyes, nose and mouth; and
Staying home if you feel unwell. We are supposed to be at home because of the lockdown.
Warning against the spread of the Covid-19 infection
Covid-19 is a highly infectious disease and has potential fatal consequences to those infected. The manner in which it is spread is by now a matter of general knowledge.
It is important to note that individuals who present with covid-19 related symptoms or those who suspect or may be covid-19 positive and yet continue to expose others to infection, will be considered in law to be doing so intentionally.
In terms of the Regulations made under the Disaster Management Act, such a person can be charged with an offence, including assault, attempted murder or murder. Therefore, any behaviour that puts another person at risk of being infected and at risk of contracting the virus, can face serious legal consequences.
It is imperative for individuals who test positive for Covid-19, or reasonably suspect to be infected, take full responsibility by ensuring that they avoid infecting others and follow the guidelines as imposed by the Government and the University.
Important Info
Resources for clinicians
Additional resources
Should you experience any flu-like symptoms which include a cough, difficulty in breathing, fever and tiredness, or if you test positive for COVID-19, please contact the following healthcare practitioners at our UJ Clinic:
For staff: Contact Sister Elana Venter on eventer@uj.ac.za
For students: Contact Sister Miemie Geya on:
Landline: 011-559 3837
Email: mgeya@uj.ac.za
Staff and students may also contact the NICD via the hotline number 0800 029 999 or the WhatsApp line 0600 123456
Centre for Psychological Services and Career Development (PsyCaD)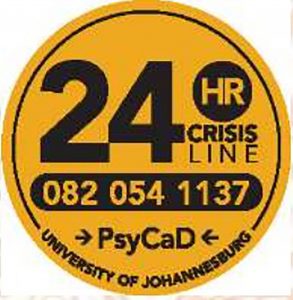 PsyCaD will be available to support you during this time, through telephone and skype counselling.
Should you wish to book an appointment please contact us on 011 559 3099.
In the event of an emergency: Contact the PsyCaD 24-Hour Crisis Line. Or Download the PsyCaD app (only available on android phones for now). You can download it from Play Store. Search for PsyCaD@uj and download it.
The app has a tab for emergency telephone numbers. If you click on the tab, it will connect you directly with the emergency number. All self-help information is also available on the app.
Alternatively contact Prof Alban Burke on 011 5593099 or 083 301 7470