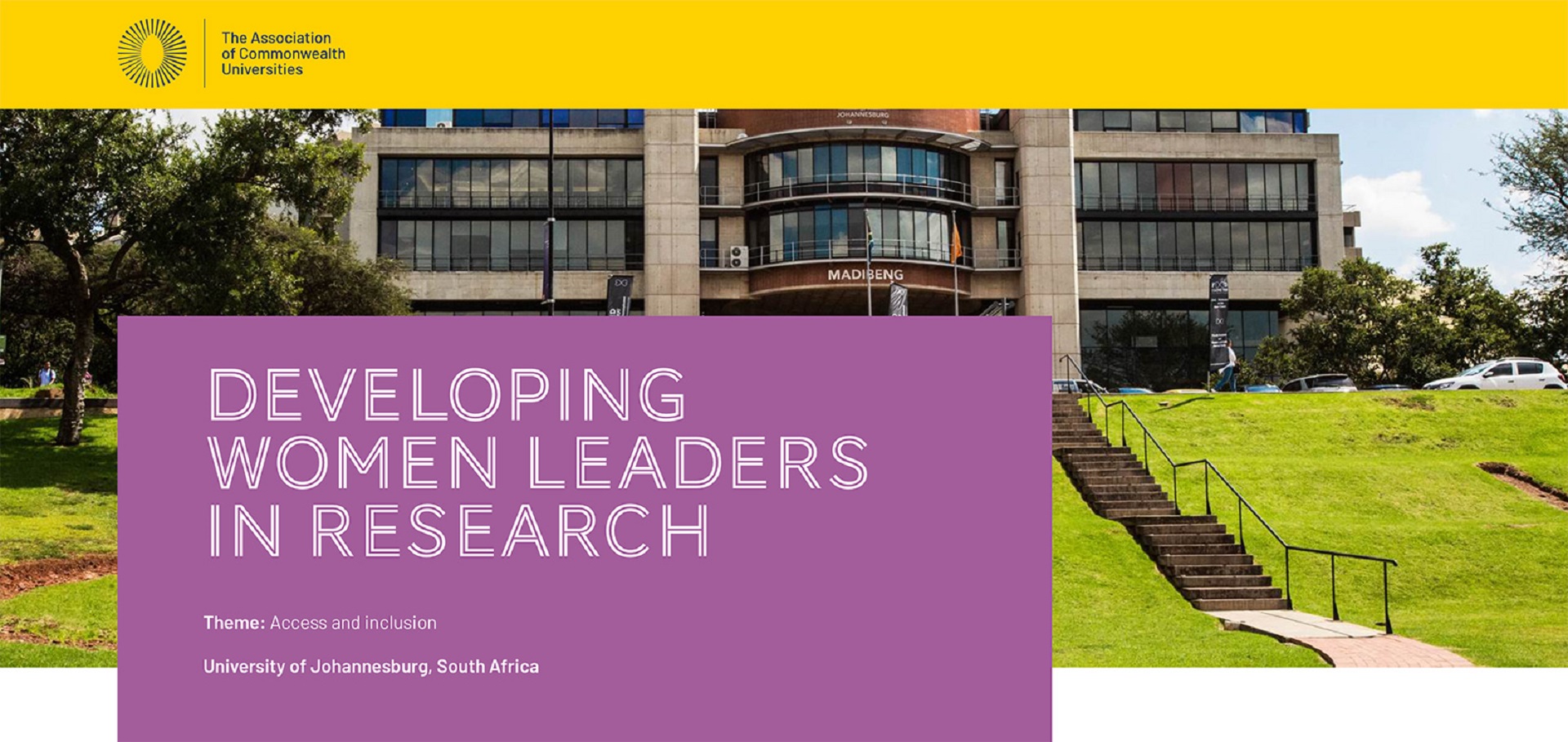 In recent years South Africa has seen women make significant progress in higher education. However, although over half of all students in South African universities are women, the same trend is not seen at senior levels of university management and academia. Currently, just four of the country's 26 vice-chancellors are women, and female academics are not progressing into professorships at the same rates as their male counterparts
The ACU is proud to be supporting the crucial work currently underway at the University of Johannesburg (UJ) to advance gender equality in academia. Recognising a national gap where relatively few women in South Africa are recognised by the National Research Foundation as leaders in their field of expertise, particularly at higher levels of the rating scale, in 2020 UJ launched a Research Leadership Programme (RLP), under the auspices of the Deputy Vice-Chancellor: Research and Internationalization (Prof Saurabh Sinha), to increase the number of female academics in research leadership positions and help to realise the full potential of female scholars.
The Research Leadership Programme at the University of Johannesburg was partially funded through an ACU Gender Grant and aims to strengthen the leadership skills of black female researchers and accelerate their advancement towards becoming world-renowned scholars. The project also aims to galvanise already ambitious research-active academics towards greater achievements; offer relevant training for leading and managing research programmes; encourage collaborations and partnerships; and offer training on how to successfully source and manage large research grants.
This bespoke programme for women, primarily led by successful female academics, has so far helped an initial cohort of nine mid-career scholars advance their research programmes and academic profiles to the next level.
To develop their skills in key areas, scholars were invited to attend a series of research leadership workshops delivered by expert facilitators. Due to the impacts of the COVID-19 pandemic, the sessions took place virtually, allowing participants to make connections and develop a support network within the university, even at a distance.
As part of the RLP, participants were each paired with a professional mentor. In the words of one participant, 'Identifying a mentor was a game-changer'. The entire cohort agreed that their mentors were a critical part of their success over the year, allowing them to receive personalised support from an established researcher to help advance their career.
In addition, to enhance their self-awareness, each researcher completed an online personality psychometric test and emotional intelligence assessment. The programme concluded with an informal lunch session for the scholars, allowing them to build further interdisciplinary and collaborative networks in a relaxed environment.
Commenting on the success of the Research Leadership Programme, Prof Bettine van Vuuren (Senior Director: Strategic Initiatives and Administration) at the University of Johannesburg, said:
"Equality, diversity and inclusivity is a big part of the University of Johannesburg success story. Particularly through striving for gender equity and equality, UJ brings forward excellence in a continuous way. The ACU Gender Grant helped bring impetus to our approach and take our story forward, both nationally and internationally."
Hellen Adogo (Project Leader: Strategic Initiatives and Administration), added:
"As the RLP enters its second year, the first cohort of female scholars unanimously agreed that the programme gave them the tools to plan their career development. Two participants, Prof Leila Kajee and Prof Philiswa Nomngongo, were promoted to full Professor while undertaking the programme."
The one-on-one consultations provided were also cited as invaluable for participants. The cohort each received personalised recommendations on how they could develop and improve their research profiles, culminating in the development of a two- to three-year research development plan. As one of the female scholars put it, 'The programme gave me the gift of time' – the time to think strategically about her research.
Overall, attendees commented that the RLP has helped them avoid pitfalls and become more focused and committed to their research. For many, this was the first time they thought strategically about their research, with some researchers reimagining their research projects entirely as a result.
Keen to build on the success of the first RLP cohort, UJ has now commenced with the 2021 intake to empower further female scholars and develop future research leaders.
Originalliy published on https://www.acu.ac.uk/get-involved/60-stories-of-change/developing-women-leaders-in-research/