UJ's Department of Commercial Accounting is making a difference at schools in Soweto
As part of their community engagement initiatives in 2022, the University of Johannesburg's Department of Commercial Accounting conducted learning interventions at two schools in Pimville, Soweto: Emshukantabo Secondary School and Musi Comprehensive School.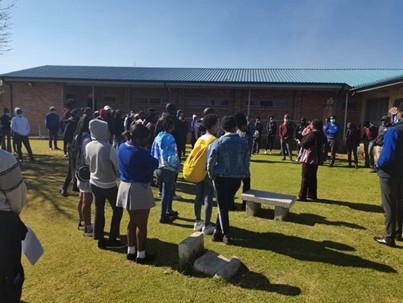 The interventions included a mentoring program for students, extra accounting classes, and teacher workshops. All accounting students at the two schools were assigned a mentor as part of the mentorship program. The mentors were chosen from Soweto Campus third-year UJ Diploma in Accountancy and Diploma in Financial Services Operations students. The staff also provided extra accounting classes to the students on a weekly basis, focusing on exam techniques to help students prepare for the exams.
The interventions have been received positively, with a significant improvement in the accounting results at the two schools as reflected in the table below:
School
Accounting matric results

 

2022
2021
Musi Comprehensive School
83.3%
54.3%
Emshukantambo Secondary School
65.7%
38.2%
The interventions were greatly appreciated by the school teachers. Accounting educator Mrs Chonco of Musi Comprehensive School stated:
'I would just like to extend my heart felt gratitude to the UJ team that supported me and my learners during 2022. Thank you for the time that you took away from your work and your families. May God continue to bless each and every one of you as I know we've made a difference to the lives of our learners by fulfilling our purpose as educators, care givers and nation builders. Today I can safely say that we as Musi Comprehensive High School are shining"
Ms Lonah Mbhalati: Community Engagement chairperson at UJ's Department of Commercial Accounting added that the intention is to broaden and grow the programmes, to include other schools around Soweto in an effort to contribute to quality education (SDG4) in our country."
"Even though it was the first year of the programme's implementation, it was incredible to see how eager and excited the learners, teachers and the mentors were. The mentors themselves benefited from the programme, some indicated that they noticed an improvement in their time management and communication skills, and they felt fulfilled to be giving back to the community. They found the experience to be so rewarding that even after graduating, they still want to participate in future programmes."