UJ Sport Scientist Liphiwe Nxasana to help SA Under-21 Springboks Ladies
Through her dedication and exemplary work in the University of Johannesburg (UJ) Netball and Rugby Clubs' ladies teams, Liphiwe Nxasana has been appointed as the Sport Scientist for the South Africa Under-21 Springboks Ladies team.
Nxasana's previous achievements include working as a strength and conditioning coach for the 2018 Golden Lions Under-18 girls' team for their National Girls' Week known as Craven Week. She has also worked with all the UJ female rugby players who were both student-athletes and club members prior to their national 7s and Under-20 call ups.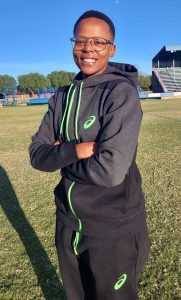 "Initially, I received the invitation when I was with the UJ teams at the University Sport South Africa (USSA) Games in early July this year, but was not willing to leave the teams at that crucial point in the tournament (which we went on to win). Then, I received the invitation again on Thursday, 11 August 2022," says Nxasana.
She added, "I honestly feel honoured and I appreciated that my hard work has been recognized after what I have been doing in my profession. This is a good gesture and I wish to go further than this. I thank God for the blessing and I'm hoping that I can use such experiences to open more doors for other women in sport."
In 2019, Nxasana helped the South African Women's 7s Rugby team's technical staff with testing for the Gauteng leg of "Becoming Imbokodo", which was held at Loftus Stadium.
The Springboks Ladies Under-21 team are currently in a training camp preparing for a friendly match against Zimbabwe's women's Under-21 rugby team.