UJ celebrates its exemplary Woman of Stature winners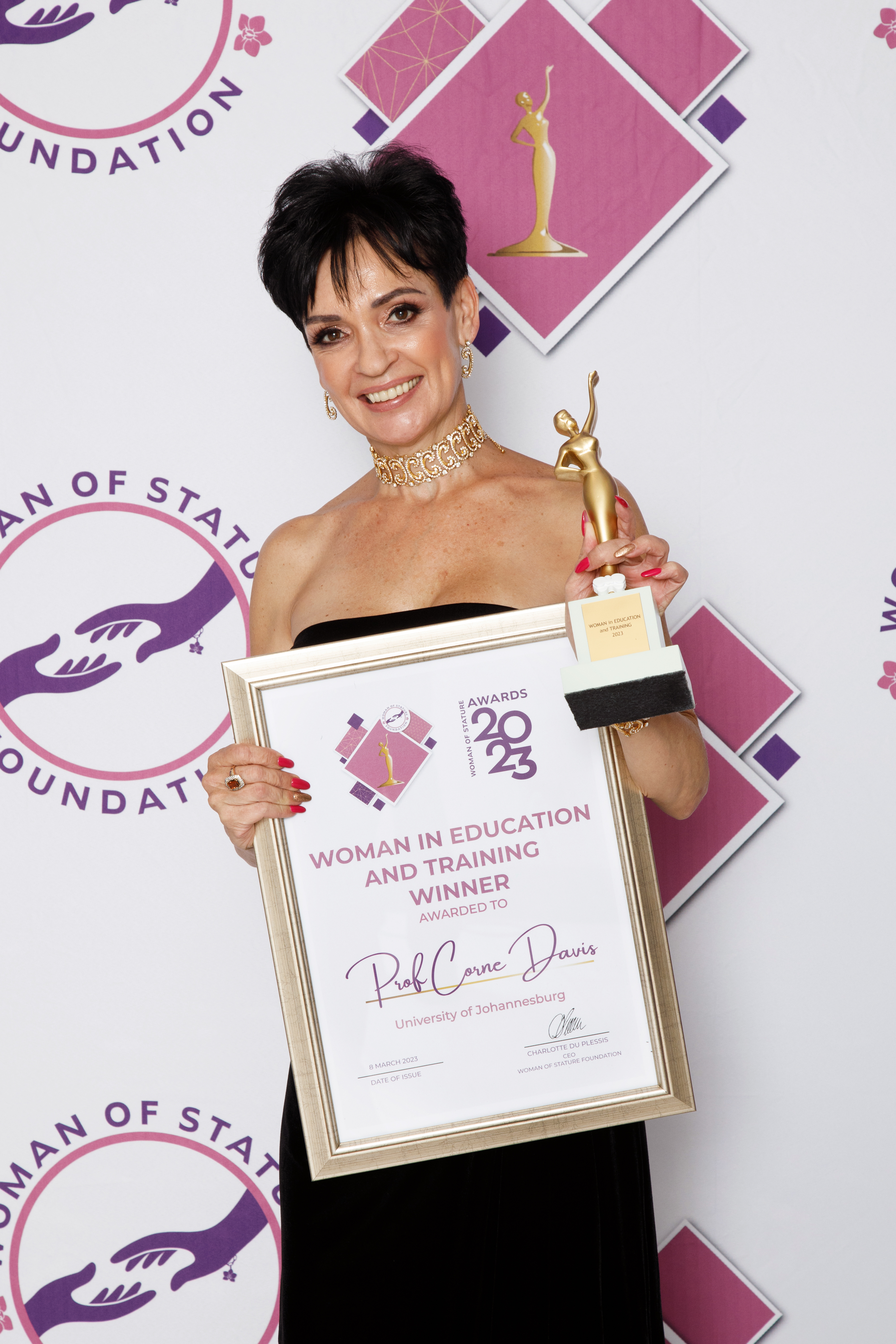 Professor Corne Davis of the Faculty of Humanities, Department of Strategic Communication was named the 2023 Woman of Stature in Education and Training, as well as the overall winner of the 2023 Woman of Stature Awards. Professor Davis will go onto represent South Africa at the Global Women of Stature Awards which will take place in September this year.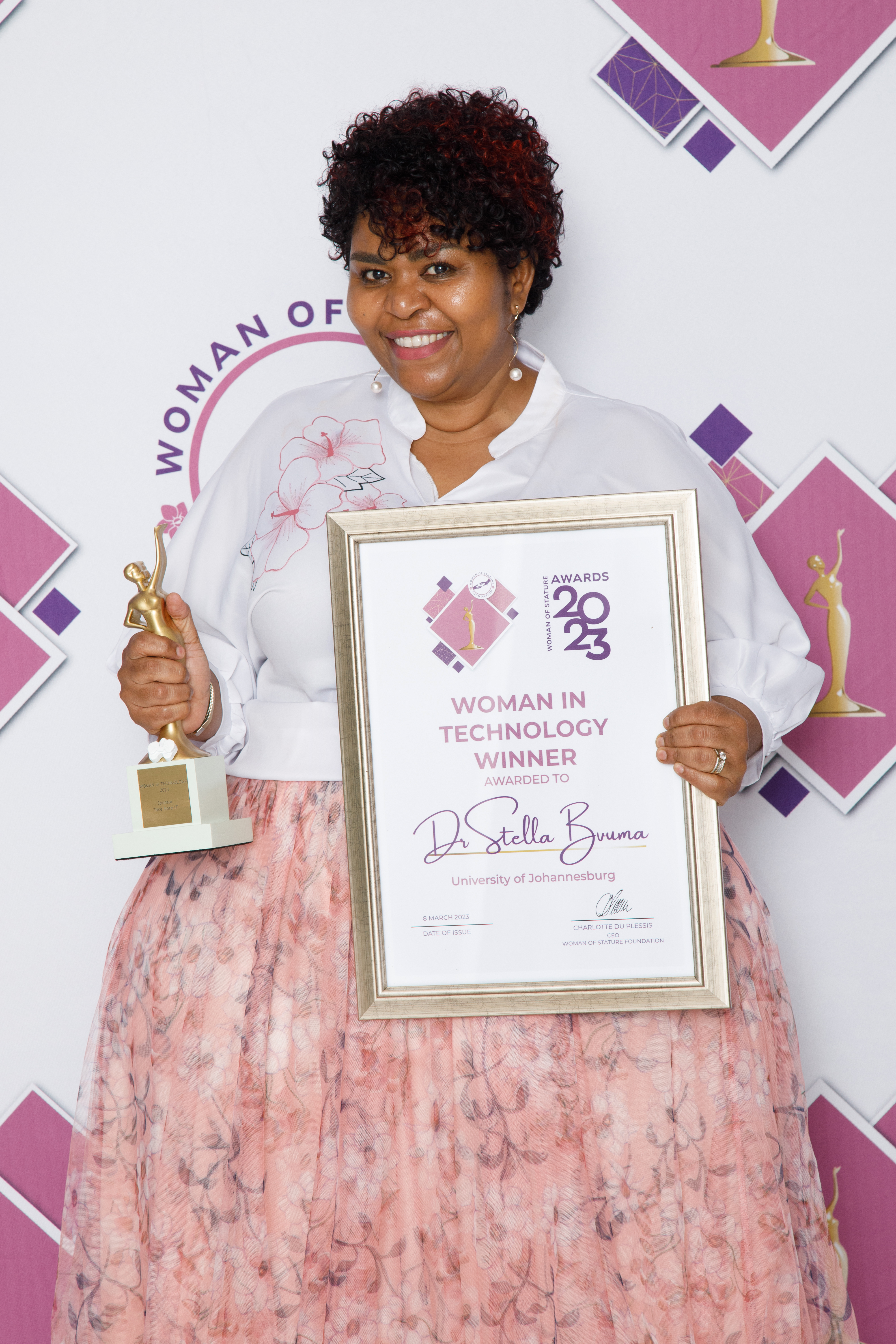 Dr Stella Bvuma of the Faculty of Science, Department of Applied Information Systems was named a 2023 Woman of Stature in the Innovation and Technology category.
Dr. Bvuma, Head of the Department of Applied Information Systems, has a robust passion for ICT4 Development and ICT adoption with a keen focus on township and rural development. She is currently engaged in research focusing on ICT adoption by township SMMEs in South Africa. Dr. Bvuma is also a member to the Council of the South African Institute of Computer Scientists and Information Technologists (SAICSIT).
Speaking about her win, Dr Bvuma said she is humbled to be recognised.
"I am a little overwhelmed. It's a good feeling to be recognised, even though when you do this work, its not necessarily to get awards. I was nominated, and at first it took a while before I submitted the document. It was Charlotte, the awards CEO who encouraged me to fill it in. She was very patient with me. It took almost two months for me to fill them in! Given that the nominees and the finalists are women that I respect in my field, I feel honoured and humbled," she said.
Professor Davis, a senior lecturer in Strategic Communication, has dedicated her life and work to combating Gender Based Violence. Prof Davis, a prolific social activist, has also authored numerous papers, including "The Costly Impact of GBV," which emphasises the need for the private sector to address the reality of GBV in the workplace as it formulates company policy and governance structures. This report was also cited by the United Nations.
Prof Davis expressed her delight that the work on the topic is finally receiving the attention it deserves.
"I am feeling ecstatic, for more than one reason. Besides the fact that its such a tremendous honour, I am so happy because the work I have done is in the field of Gender Based Violence, and this work has been acknowledged , which means that the topic is acknowledged. We we are getting somewhere, and people now consider that work addressing Gender Based Violence is worthy of winning this award. This is a big deal and I am happy to be able to fly UJ's flag high!"
UJ was the only higher education institution nominated for the awards. Additionally, UJ's Prof Musawenkosi Saurombe and Prof Adri Drotskie also received nominations within the Woman in Education category.
Professor Letlhokwa Mpedi, Vice-Chancellor and Principal of UJ, congratulated all the award winners and finalists. "To Prof Davis and Dr Bvuma and to all the finalists, you have achieved and impacted those around you in a deep and profound way. All the best with your endeavours and keep flying the UJ flag high," Prof Mpedi said.
The Woman of Stature Foundation was founded to address South Africa's socio-economic challenges by making a valuable contribution to the development of women.