Tanisha & Themba graduate cum laude for their honours degrees!
Tanisha Milton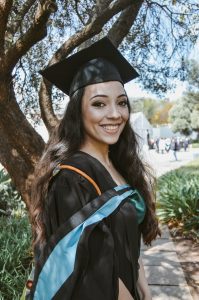 As an undergraduate student beginning my university journey, I had set one goal for myself – to obtain my degree with distinction. I did not consider the adversity I would face, nor the sheer determination it would require. But once I have my mind set on achieving something, I will persevere until the very end. However, once the pandemic became a reality and I had to adapt to the challenge of online learning, my self-belief was hanging on by a thread. Against all the odds, I achieved what I had set out to, I obtained my undergraduate degree with distinction. That is where I believed my academic story would end. However, after much consideration, I had made the decision to further my studies and pursue my Honours in Strategic Communication. I wanted to push myself once more, and achieve what I believed to be nearly impossible. Merely getting accepted into Honours is an achievement within itself, but obtaining this degree with distinction seemed to be pushing the boundaries on what I could achieve. The leap from undergraduate to postgraduate studies is something that I was not entirely prepared for. However, the incredible support from the lecturers within the Department helped me to navigate all the challenges that I encountered along the way.
In the end, I achieved my goal for a second time. I obtained both my undergraduate degree and postgraduate degree with distinction. This truly emphasised how important it is to believe in yourself and be surrounded by a support system that believes in you too. I have learned to always set the bar high because if you do the work to the best of your ability, you can surprise yourself by surpassing the bar. Ultimately, the goal should always be to make yourself proud. Now pursuing my Master's in Strategic Communication, I am truly living my wildest dreams.
Themba Mahlangu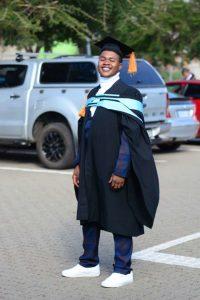 "Being a UJ student, particularly under the Department of Strategic Communication allowed me to explore my capabilities beyond what I could have ever imagined. I arrived at UJ in 2018 as a timid student who was eager to learn and develop into a well-educated professional. I had little knowledge of the field, I remember how confused I was during the first few lectures in my undergrad. But I didn't allow that to deter me from what I wanted to achieve. Everyone in the department was friendly, I consulted with my lecturers and engaged with my classmates to solicit their opinions on topics I found challenging. Studying through the pandemic was very difficult because it was a lonely journey for me because I couldn't physically meet with lecturers and my classmates. However, the lecturers were so welcoming and it was easy to discuss anything with them. Online engagements were so beneficial for me because I had the opportunity to pose questions and debate with my classmates, it was a great experience after all"
Halala! We salute you as the Department of Strategic Communication
Edited by Seriane Morapeli