Christine, Bolatito, Hannah, Kayla & Nyiko graduate cum laude for their undergraduate degrees! Halala! We salute you as the Department of Strategic Communication!
Below are some reflections (and social media handles) from our department's very own top students!
Christine Putsoane
Graduation signifies many things. It represents growth, hard work and transformation. Initially, my academic journey was undefined and unstable, but through discipline and support from my lecturers, I learned how to blaze a trail throughout my time in the lecture hall and beyond. For me, this moment is a reward for all those late nights spent in the library and the tears shed to get to this point. My hard work was not in vain as today I get to say that I am a University of Johannesburg Public Relations Graduate with distinction. Being one of only two graduates to receive a cum laude in my class is definitely my greatest academic achievement.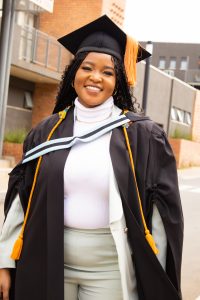 Instagram: @chrissy.putsoane
LinkedIn: Christine Putsoane
Bolatito Agbebi
The road to success may not be a bed of roses but it is possible to reach your destination. Entering university as a naïve young girl, I had to learn to relate with others older than I was. I was even nicknamed "lastborn", by my classmates. Being a devoted Christian, I relied on GOD and also purposed in my heart to work hard. I knew I was not the best in high school, I was not the most brilliant or intelligent student but I could change that story. Over these few years, I have learnt that 3 things are major keys to success: resilience, hard-work and relationships. In my heart, I did not want my family's financial situation to write my story; rather than playing the victim I decided I will be a victor. I resolved in my mind that I will rise above that situation. I came up with a strategy, after each day of class, I never slept until I scanned through the work done in class for that day. This helped me remember the concepts. Then, my weekends were spent studying and gaining knowledge. I would set questions for myself and this gradually prepared me for all my tests and exams.  To the glory of God, I graduated my course with distinction (in 26 modules) and I can boldly say "it pays to work hard and academic excellence is possible.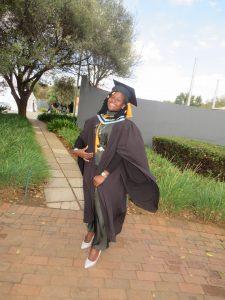 LinkedIn: Agbebi Bolatito
Facebook: Bola Omoarugboojo
Instagram: bola.omoaruboojo
Twitter: AgbebiBolatito
Kayla Hovelmeier
The journey through my undergraduate degree was unique and unforgettable. I chose to study Strategic Communication in Corporate Communication because of the opportunity of this degree to open doors to various career paths. In addition to the opportunity to create strategies to bring about some form of change. Navigating through a global pandemic brought about moments of doubt, uncertainty, and low days from a mental health perspective. However, it also created an increased sense of motivation to push through and do the best I could, with gratitude for who I was and what I was lucky to have in those trying times. I am so proud of what I have achieved and the person I am becoming, and I am eager to see what lies just over the horizon of my next step in life.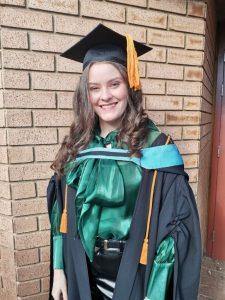 Instagram: @kaylahovelmeier
LinkedIn: Kayla Hovelmeier
Hannah Jean Newbold
I didn't consider myself an academic through my secondary education, sports was always my main focus. But I'm the kind of person that once I set my eyes on a goal, I am determined to achieve it. I chose a BA in Strategic Corporate Communication because it seemed to be a nice balance between business and creativity, two of my passions. When I started my undergraduate degree in 2019, I had no idea how I was going to complete it. With financial difficulties, I depended on multiple jobs to pay off my student fees. Time management became my main concern. I was very blessed towards the beginning of my second-year to receive a partial bursary from ByDesign Communications, and to start working part-time for them to gain some industry experience. This experience has grown into a full-time position that I hold today.  Although the industry experience has definitely helped me think of my academic life in more practical ways, it has been very challenging trying to balance both, especially now as I am working to complete my full-time Honours degree in Strategic Communication alongside a demanding full-time industry job.  Making and maintaining good working relationships with my academic colleagues has been the only reason I have come this far. If I were to give one word of advice to students entering this degree, it is to pay attention to who asks good questions in class and watch how your classmates work in groups. Find those who work hard and match their work ethic. Consistent daily effort is so important if you want to do well in this challenging course.  I started my degree thinking there is no way I will study past undergraduate. Today, I hold an undergraduate degree cum laude, and I am working to achieve my Honours. Next year, we move to Masters and I will make further decisions from there. There is power in interdependence and goal setting. We all have power to manifest and work for the future we want.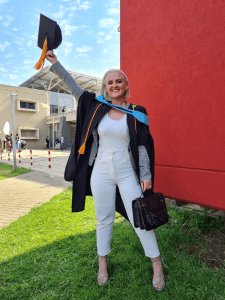 Facebook: Hannah Eppel (https://www.facebook.com/hannah.eppel/)
Instagram: @hannaheppel (https://www.instagram.com/hannaheppel/)
Twitter: @hannaheppel (https://twitter.com/hannaheppel)
Nyiko Sithole
The past three years have been the most interesting part of my academic career. I have adapted to both school and life changes. These three years have taught me two things: It all comes down to you and a support system matters. I have enjoyed learning from the great academic giants of the Strategic Communication Department. Their teachings are applicable in not just the communications industry but also in general life events because I have learnt to be present – to be in the moment. As I progress through my honour's year, I only have two goals in mind; to keep raising the bar higher and never settling for the bare minimum.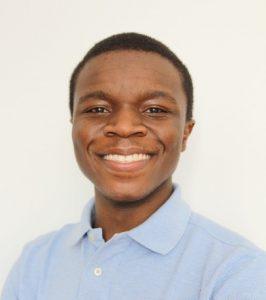 Edited by Seriane Morapeli