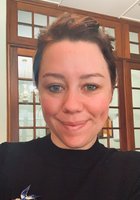 Temporary Lecturer
Name: Nicole Caunter Broadbent
Location: B Ring 709 Auckland Park Kingsway Campus
  Staff Members
Contact Details:
Tel: 011 559 2729
Email: nicolecaunter@gmail.com
About Ms Nicole Caunter Broadbent
Nicole completed her undergraduate degree, Honours and Master's in Philosophy at UJ.
Nicole is an environmental ethicist and wildlife management theorist. She has lectured for the Wildlife and Wilderness Management Ethics programme at Organization for Tropical Studies (OTS) at Skukuza, Kruger National Park, and has taught Critical Studies (Humans in Nature) at Vega School.
Her research interests include human-wildlife conflict management, captive wildlife management ethics, and human-animal interaction theory. The topic of her Masters dissertation was the ethics of elephant captivity and interaction.
The fundamental question that motivates her research is: What does it mean to treat an animal well, in contexts where that animal is considered neither domestic nor agricultural?