Events
Home » College of Business and Economics » Schools » School of Consumer Intelligence and Information Systems (SCiiS) » Technopreneurship Centre »
2022 Blockchain Innovation and Bootcamp Hackathon
DATE: 20 – 22 July 2020 09:00 – 17:00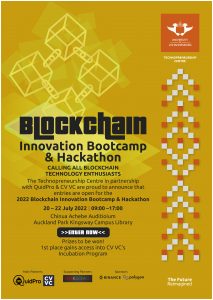 Calling all UJ students who are Blockchain Technology enthusiasts!
The Technopreneurship Centre in partnership with QuidPro & CV VC are proud to announce that entries are open for the 2022 Blockchain Innovation Bootcamp & Hackathon. Thank you to our sponsors Polygon and Binance for making this possible, and to our supporting partner Geekulcha for coming on board.
Are you that Blockchain Technology enthusiast we are calling for? Then don't waste time. To enter, just click HERE
PAICTA Technopreneurship Webinar
DATE: 25 Mar 2021 15:00 – 16:30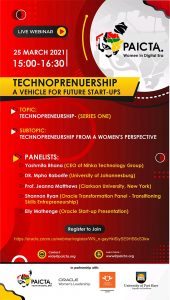 The Technopreneurship Centre in partnership with the Pan African Information Communication Technology Association (PAICTA) will be hosting a webinar on: Technopreneurship – A vehicle for future start-ups
To register your attendance, click HERE
NEMISA Virtual Data Science Hackathon
DATE: 26 -28 February 2021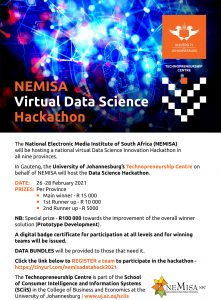 The Technopreneurship Centre will host a Virtual Data Science Hackathon on behalf of the National Electronic Media Institute of South Africa (NEMISA) in the Gauteng province. We calling all innovators, hackers and thinkers and programmers to join this initiative. Amazing prizes are up for grabs, with a special PRIZE of R100 000 towards the development of your prototype!
To view the programme click HERE
To join the Hackathon on Zoom click HERE
For more information about the Hackathon click HERE