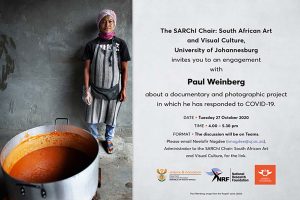 Artist Talk 6: Paul Weinberg
27 October 2020
Veteran South African documentary photographer Paul Weinberg introduced his recent projects that focus on documenting community responses to the health and economic crises brought about by the COVID-19 pandemic.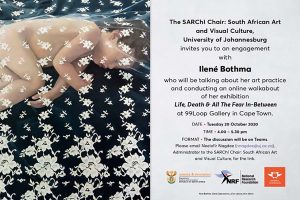 Artist Talk 5: Iléne Bothma
20 October 2020
Iléne Bothma introduced her most recent solo exhibition Life, Death and all the Fear In-between and contextualised the works as arising out of her intrepid explorations into the ambiguous, overlapping roles of mother, partner, artist, and woman. She conducted an online walkabout of her show at 99Loop Gallery, Cape Town.
View Iléne Bothma's artist talk here: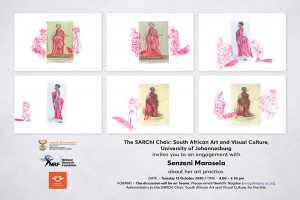 Artist Talk 4: Senzeni Marasela
13 October 2020
Artist Senzeni Marasela discussed her project Ijeremani Lam (2013-2019). Senzeni identified influences ranging from Dolly Parton to Winnie Mandela and Charles Dickens' Miss Haversham that all describe women who wait in order to contextualise her decision to spend what ended up being 6 years living and working in the costume of, and in many ways, as the character of, 'Theodora', who paid homage to her mother and many women who remain unacknowledged.
View Senzeni Marasela's artist talk here: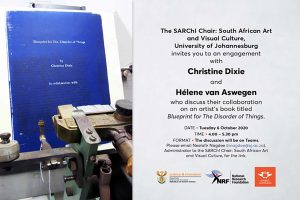 Artist Talk 3: Christine Dixie and Helene van Aswegen
6 October 2020
Printmaker Christine Dixie collaborated with book-maker Helene van Aswegen to produce an artist's book Blueprint for the Disorder of Things in 2020, which critically engages with Foucault's The Order of Things. Dixie and van Aswegen discussed how the COVID-19 pandemic affected the course of the book's production, and continues themes explored in previous works, notably To Be King.
View the artist talk here: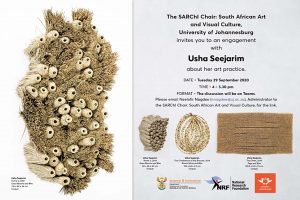 Artist Talk 2: Usha Seejarim
29 September 2020
Artist Usha Seejarim talks about her art practice in relation to material and form: how she plays the two off each other to offer parodic, witty commentary on social and artistic norms by foregrounding the domestic environment and rituals of working-class women. She singles out her large-scale 'abstract painting' Dishwashing Delight for instance that parodies the self-involved solemnity of, often, white, male Conceptualists by being composed of numerous small square multi-coloured scouring sponges glued onto board.
View the artist talk here: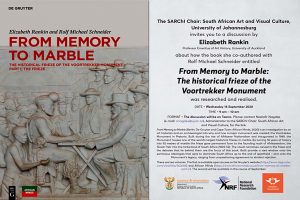 Author Talk: Elizabeth Rankin
Wednesday 16 September
How did the Voortrekker Monument frieze come about and how does one negotiate it from a postcolonial perspective? Elizabeth Rankin introduced the book on the Voortrekker Monument frieze that she co-authored with Rolf Michael Schneider, From Memory to Marble. Her presentation followed shortly after the release of the second volume and discussed the ten-year process of researching and writing the book. Elizabeth Rankin is Professor Emeritus (Art History) from the University of Auckland and former Professor (and Dean of Humanities) at Wits University.
View Elizabeth Rankin's author talk here: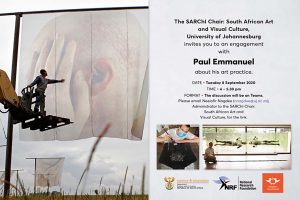 Artist Talk 1: Paul Emmanuel
8 September 2020
Paul Emmanuel talks about the various iterations of his ongoing project The Lost Men, which examines issues of masculinity, militarisation, vulnerability, mourning and loss. He also looks forward to his forthcoming exhibition at UJ Arts and Culture in 2021, where he presents new works that also explore memory and loss, but in the context of his own family.
View Paul Emmanuel's artist talk here: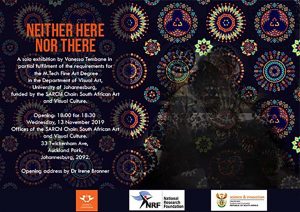 Neither Here nor There An Exhibition by Vanessa Tembane
13 November 2019
Vanessa Tembane exhibited her M.Tech body of work at the SARChI Gallery. Vanessa was supervised by Prof. Brenda Schmahmann and co-supervised by Vedant Nanackchand.
Vanessa explored her own experiences of diasporic displacement. The intergenerational chain of communication between herself, her mother and grandmother, the framing of the past wrought by nostalgia, and the role of photography in establishing belonging were the central themes of her body of work, which paid homage to the Mozambiquan capulana.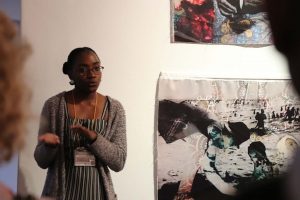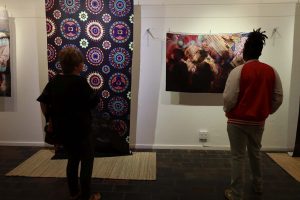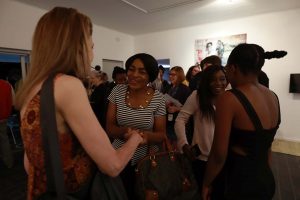 A Place Away An Exhibition by Kate'Lyn Ruby Chetty
16 November 2020
Katie exhibited her M.Tech body of work at the SARChI Gallery. Katie was supervised by Prof. Brenda Schmahmann and co-supervised by Landi Raubenheimer. In her exhibition and dissertation, Katie explored how the narratives told by photographs in a family album tend to exclude evidence of suffering and instead often represent idealised family life. Her extended family had settled in, and taken photographs of, Sawoti, an area in KwaZulu-Natal where many indentured labourers from India settled after their contracts had expired. Invoking a critical and empathic lens onto nostalgia, Katie reinterpreted the idea of Sawoti as an idyllic space that omitted reference to the family's challenges and losses experienced during indenture and apartheid. Her exhibition opening coincided with the 160-year landing of the first people from India bound for indenture in South Africa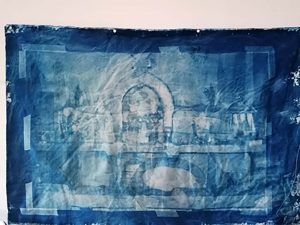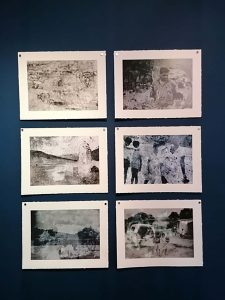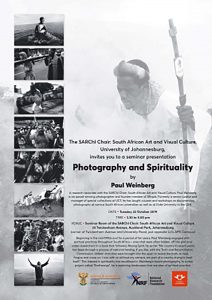 Photography and Spirituality A Guest Seminar by Paul Weinberg
22 October 2019
Paul Weinberg is a research associate with the SARChI Chair in Art and Visual Culture, an award-winning photographer and founder member of Afrapix.
He presented his recent project "Earthsongs", which documents and interprets landscapes that are sites of spiritual practice. He demonstrated how this work follows on from a deep engagement with his previous photographic projects that recorded people's spiritual practices in Southern Africa, published in his book Moving Spirit (2006).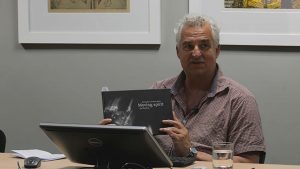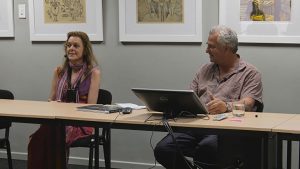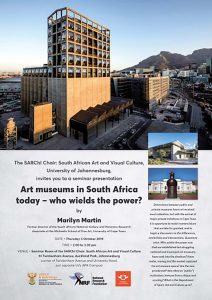 Art Museums in South Africa today: Who wields the power? A Guest Seminar by Marilyn Martin
3 October 2019
Marilyn Martin posed urgent questions around the politics and directions of contemporary South African art museums. She asked: Who wields the power now that our established but struggling national and municipal art museums have sunk into the shadows? Have males, money and the market captured the art museum space? Are the new private (self-described as 'public') institutions immune from critique and scrutiny?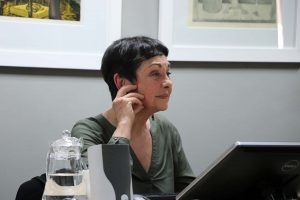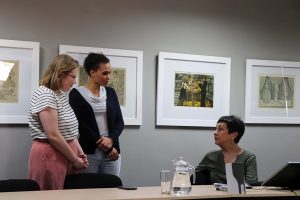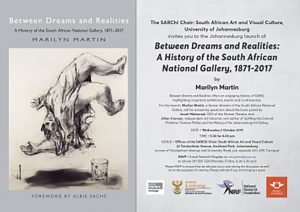 Between Dreams and Realities: A History of the South African National Gallery, 1871-2017 The Johannesburg launch of Marilyn Martin's book
2 October 2019
Former director of the South African National Gallery, Marilyn Martin was in conversation with Ishmael Mohammed, CEO of the Market Theatre and former director of the National Arts Festival in Makhanda. Based on extensive research and interviews, her book revisits important exhibitions, events and forgotten controversies. Martin highlighted achievements of directions, who often faced political agendas and strained relationships within and outside the institution.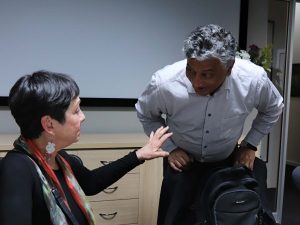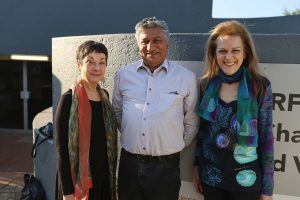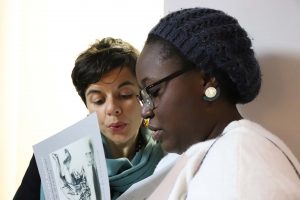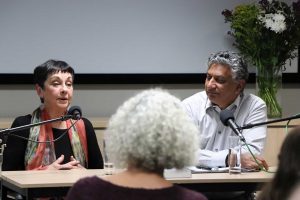 Understanding Ndebele Arts and Culture: Between Exploitation and Appreciation A Guest Seminar by Craniv Ambolia Boyd
9 April 2019
Craniv Ambolia Boyd was a visiting PhD student at the Faculty of Art, Design and Architecture (FADA). Pursuing his PhD at the Freie Universitat Berlin, Craniv introduced graduate students to methodological as well as practical strategies available to pursue fieldwork, while contextualising his own experiences conducting fieldwork amongst Ndebele textile makers and bead workers.
Understanding Ndebele Arts and Culture: Between Exploitation and Appreciation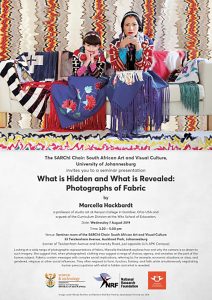 What is Hidden and Revealed: Photographs of Fabric A Guest Seminar by Marcella Hackbardt
7 August 2019
Marcella Hackbardt is Professor of Studio Art at Kenyon College (Gambier, Ohio) and was in Johannesburg as a guest of the Curriculum Division at the Wits School of Education. She discussed a wide variety of photographic representations of fabric and considered the messaging contained within them. In responding to form, function, fantasy and faith, Marcella outlined the productive ways in which studio art may be informed by theoretical underpinnings.
A Global Menagerie: Captivating Portraits of Predators and Preys A Guest Seminar by Pearlie Baluyut
6 March 2019
Pearlie Baluyut, Curator and Lecturer of Art History at the State University of New York (Oneonta), discussed curatorial strategies pertaining to the exhibition of artists whose works may be considered conventionally 'difficult' and/or 'different'. Her case study was drawn from her recent curatorial project with the Taiwanese artist Tawan Wattuya, who was available, via Skype, to engage with seminar attendees.
A Global Menagerie: Captivating Portraits of Predators and Preys
Kaliyutopia An exhibition by Kiveshan Thumbiran
29 January 2019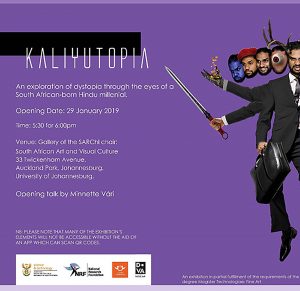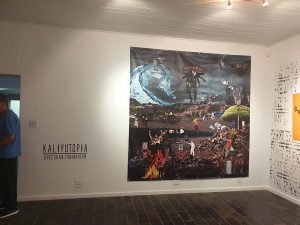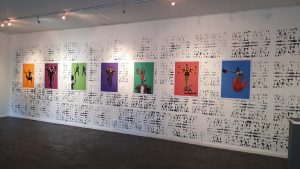 Kiveshan's exhibition opening is available here: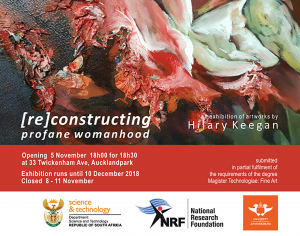 Reconstructing Womanhood An exhibition by Hilary Keegan
November 2018
Hilary exhibited her M.Tech body of work in the SARChI Gallery. She was supervised by Prof. Karen von Veh and co-supervised by Shonisani Netshia.
Hilary Keegan examined Mary and Eve stereotypes in order to work through the religious allusions that underscores profane female identity, intended to compel obedience and devotion to a 'pure' feminine ideal. She engaged with the deconstruction and reconstruction of her female identity through a series of paintings and constructed altarpieces. The resulting three cycles of artworks act as metaphors for her reconstructed womanhood through a fairy tale journey.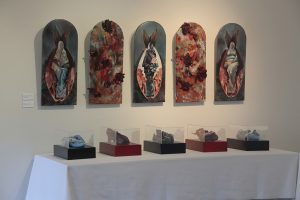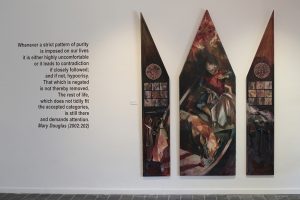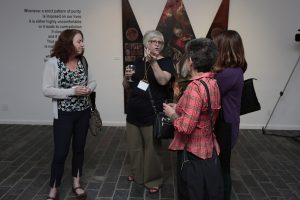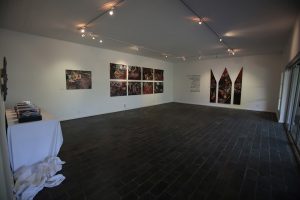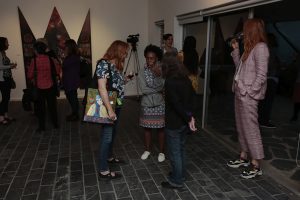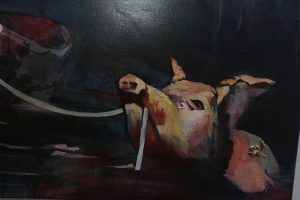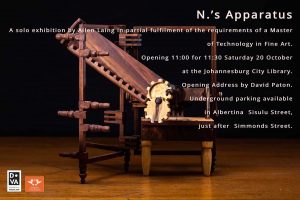 N's Apparatus An Exhibition by Allen Laing
20 October 2018
Allen Laing's M.Tech body of work was exhibited in the Johannesburg City Library. He was supervised by Prof. Brenda Schmahmann and co-supervised by David Paton. His M.Tech was awarded a distinction and the Chancellor's Medal Chancellor's medal for the most meritorious master's study of 2018 at FADA.
Through the imaginative encounters of his alter ego (N.) with Professor Walter Roald Etterforsker, purportedly a 19th century ethnographer, Allen's work combined whimsical, inventive and serious examination of issues around societal constructions of masculinities, colonial encounters, and the documenting and archiving of local knowledge during colonial occupation, which he demonstrated continue to have relevance in contemporary society.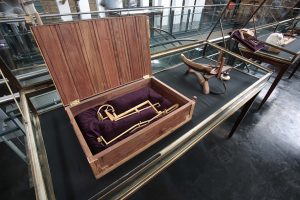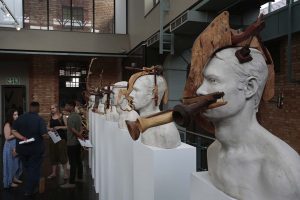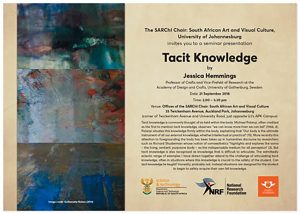 Tacit Knowledge A Guest Seminar by Jessica Hemmings
21 September 2018
Jessica Hemmings, Professor of Crafts and Vice-Prefekt of Resarch at the Academy of Design and Crafts, at the University of Gothenburg, Sweden, presented a seminar on how 'tacit knowledge', commonly thought of as knowledge that is held in the body. She discussed its positioning within humanities discourse and its applicability and potential in open-ended, arts- and humanities-based research through a series of examples.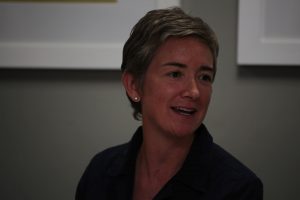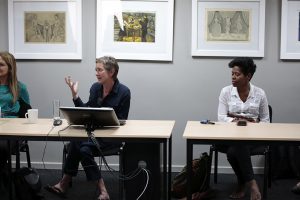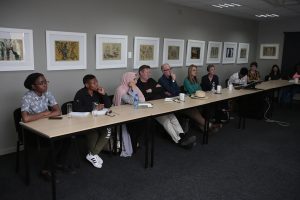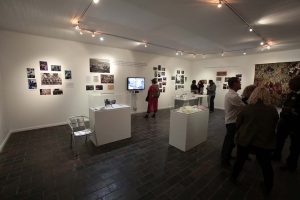 Behind the Warp: Women and Weaving at Rorke's Drift An exhibition curated by Philippa Hobbs and Jenny Marsden
28 August 2018
The artistic contribution by woman weavers of the ELC Art and Craft Centre 'Rorke's Drift' was explored and acknowledged in this exhibition. The range of historic material that narrates this little-understood tapestry practice is drawn from the Power, Gender and Community Art Archive (PGCAA). This archive is a collaboration between Special Collections at the University of Johannesburg and the SARChI Chair in Art and Visual Culture. Material relating to the ELC Art and Craft Centre at Rorke's Drift was repatriated from Sweden by Philippa Hobbs in 2017 and 2018. She and archivist Jenny Marsden constructed the archive by October 2018.
Eroticism, Morality and Measure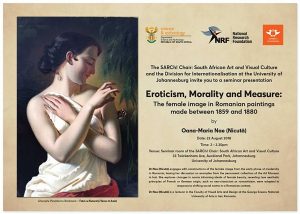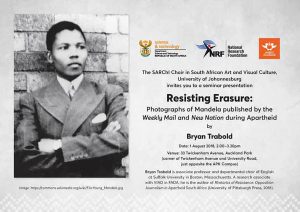 Resisting Erasure: Photographs of Mandela published by the Weekly Mail and New Nation during Apartheid A Guest Seminar by Bryan Trabold
1 August 2018
Bryan Trabold, Associate Professor and Departmental Chair of English at Suffolk University (Boston, Massachusetts), discussed how photographs of Nelson Mandela published by the Weekly Mail and the New Nation newspapers during apartheid framed and advanced the various narratives of Mandela's iconicity in the apartheid struggle. His seminar coincided with the Johannesburg launch of his book Rhetorics of Resistance: Opposition Journalism in Apartheid South Africa (University of Pittsburgh Press, 2018).