Brand
Home »
About our brand
Our vibrant brand is made up of a number of carefully chosen elements that assist us in our strategic positioning.
Our brand is informed by our brand philosophy, brand platform, brand promise and brand objectives. These elements, which are discussed in this section, assist in defining and directing what the UJ brand stands for and what we need to communicate about it. These elements are uniquely developed for UJ, successfully set our brand apart from others, and should be used in all brand communication elements.
Our logo reflects everything our university stands for, namely cultural diversity, stature, global diversity and academic excellence. The striking imagery, colours and textures represent Johannesburg's character and landscape, and all the elements portray a sense of liberty and unity, a celebration of the human spirit, and a fresh new energy.
The two birds facing one another represent the union between the two respected institutions that brought about a new and powerful force. They represent freedom – the freedom to live your potential, to explore all possibilities (on academic, personal and social levels), and to inspire you to reach for the sky. In short, to be part of a movement that is "co-creating solutions for humanity."
The image of the open book, created by the space between the two birds within the logo, also symbolises a blank slate upon which students and staff may write the script for their futures. This also represents the book of knowledge – the continual development and renewal of knowledge, as well as the infinite nature of the learning process.
The abstract element between the birds' heads denotes the torch of learning – symbolic of diversity and the comprehensive range of different qualifications offered by our university.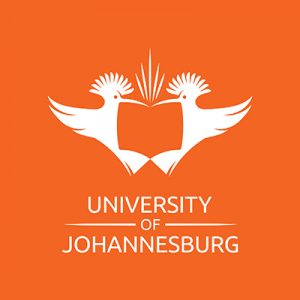 Knowledge transforms people and people transform the world. It is therefore the quality of our thinking that determines the quality of our society. UJ aims to give staff and students the freedom to live their potential and explore the totality of possibilities. People are only limited by limited minds. UJ aims to set them free.
This aim is expressed as our brand philosophy: "Co-creating solutions for humanity."